With its eye on the broadcast of the 2020 Olympics in Japan among other events, RTW has developed an immersive audio licence, ISA Immersive Sound Analyzer, for its TouchMonitor TM7 and TM9 audio meters.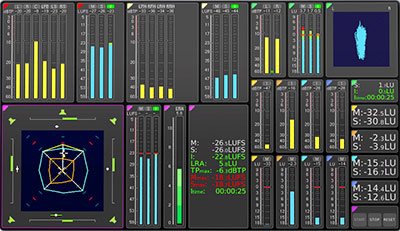 The new licence enables audio metering of several variants of the Dolby Atmos immersive audio format. Besides offering all relevant metering instruments, users will also be able to monitor various loudness measures, including Integrated, Momentary and Short-Term loudness across an entire Dolby Atmos stream – also channels that carry audio objects.
With the ISA licence, audio engineers in broadcast and post production will be able to monitor 5.1.2, 5.1.4, 7.1.2 or 7.1.4. In reality, two surround sound analyzers are combined, which allows for monitoring both the main bed (5.1 or 7.1), as well as the upper bed (2.0 or 4.0) in a single easy-to-read view.
'Immersive audio formats have arrived to stay and the transition has merely just begun,' says RTW CEO, Andreas Tweitmann. 'Therefore, the new ISA licence for our TM9 and TM7 units that allows existing users to simply add this crucial functionality. And of course, it represents yet another reason for new users to join the TM-platform, stepping into the future of immersive audio in broadcast.'
The ISA - Immersive Sound Analyzer license is immediately available for all TM7 and TM9 models running software v8-10 or higher. The following additional software licenses are required to run ISA: Multichannel Mode, Loudness and SPL Display and Surround Sound Analyzer.
More: www.rtw.de