Lawo's smartDASH System Monitoring and Realtime Telemetry is a vendor-agnostic enterprise software suite designed to provide full network and media visibility across an all-IP, all-SDI or hybrid WAN/LAN broadcast infrastructure.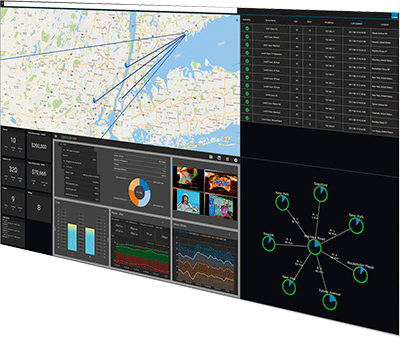 Positioned to bridge the gap between IT and video engineering, smartDASH is on a Unix OS, providing a software-defined networking solution and accompanying database to document and rapidly search any aspect of a network's operation, from a simple cable ID number to the path of a multicast across a transnational multi-hop Wide Area Network (WAN). Additionally, by leveraging a vast library of hardware communication protocols, the system automatically interrogates live and dormant path connections to create the most intuitive and data rich presentation layers of a COTS-hybrid infrastructure.
With deep packet inspection microservices, smartDASH supports monitoring and decoding of a wide range of media formats, from low bitrate OTT/ABR streams to uncompressed ST2110 studio production flows, in addition to characterising the packet pacing off the delivery network. This unique approach provides a deep profile of operational visibility by unifying network telemetry and mixed media flow into a single-glass view. smartDASH users have a zero-footprint installation and a tool that can be deployed on on-premises (on-prem), private or public cloud services, using HTTP accessibility from a browser or mobile device.
A scalable enterprise software solution, smartDASH provides data from every corner of a media network, and is able to effortlessly document all aspects of the network and its supporting infrastructure. It will visualise connectivity and bandwidth usage with precision, discover and trace live media flows from origin to destination, and convert network and media data points into actionable intelligence. Advanced telemetry agents provide both in-service and out-of-service alarm generation and reporting, alongside real-time communication and telemetry from COTS platforms to third-party purpose build equipment.
All parameters, including high-performance deep packet inspection of mixed media flows, are displayed on comprehensive and unified presentation layer dashboards – awareness of speed of data lends itself directly to improved revenue. In addition, smartDASH will keep track of device inventory (including warm and cold) spares, and account for CapEx and OpEx KPIs to manage total cost of ownership.
See also
Lawo smartScope
More: www.lawo.com