Vue Audiotechnik has released v3.8.20 of its SystemVue software, which includes Dante networking support, significantly expanded parametric EQ functionality, and a larger library of pre-loaded configurations addressing point source, line array systems, and subwoofer arrays.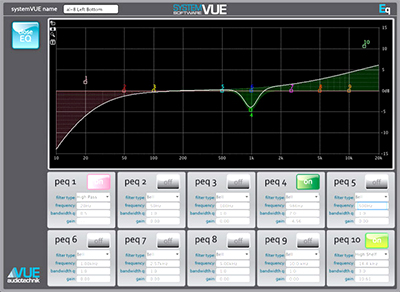 SystemVue 3.8.20 supports Dante networking capabilities for all h-Class high-definition powered systems, as well as VueDrive systems engines. Dante integration allows selection of the Dante networked audio stream input in SystemVue, enabling Vue systems to be part of a complete venue-wide Dante audio network. Dante networks can directly incorporate any Vue h-Class system, as well as al-Class and a-Class models powered by a VueDrive systems engine.
In addition to Dante, SystemVue 3.8.20 delivers further pre-loaded factory configurations for easy deployment of common and atypical arrangements. The list includes multiple, application-specific VueDrive configurations for al-Class systems, allowing optimisation of array performance. New mixed configurations add support for individual VueDrive units to power a Class and al Class full-range systems along with subwoofers. Finally, new factory configurations allow for easy setup of directional subwoofer arrays using Vue's h-Class subwoofers with patented ACM technology and VueDrive system engines powered al-Class Flyable subwoofers.
EQ capabilities are also improved through use of embedded DSP, giving access to comprehensive filter options for each system. Each system equaliser has ten filters, and each filter can be high-pass/low-pass, notch, shelving, peakin dipping and all pass.
Other improvements covered in the 3.8.20 update include: expanded grouping options; improved device information, including software/hardware synchronisation status; analogue, AES/EBU and Dante fall-over capabilities for maximum reliability; and expanded OS support for Windows 10 and iOS (pending Apple approval).
'Thanks to the powerful DSP at the heart of our h-Class and VueDrive system engines, new features and usability enhancements will continue to come very quickly,' says Vue Audiotechnik CEO, Ken Berger. 'This latest release directly addresses many of the most requested features from our users, and further demonstrates our commitment to providing powerful, easy tools that streamline their business, enhance creativity, and validate their investment.'
SystemVue 3.8.20 is compatible with current Mac and Windows operating systems, and can be downloaded directly from the Vue Audiotechnik website. SystemVue 3.8.20 also includes support for iOS, which will be available free in Apple's iOS App Store in the coming weeks, pending final approval from Apple.
More: www.vueaudio.com