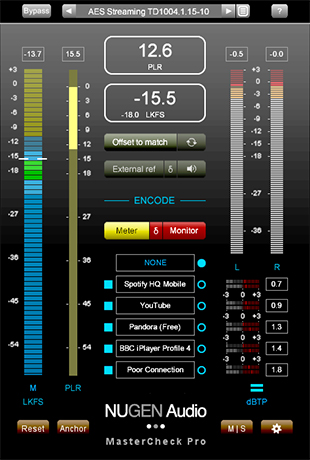 Nugen Audio's MasterCheck Pro is a loudness, dynamics, and codec toolset enabling producers to hear and visualise the playout encoding and loudness matching techniques now in use by music streaming service providers such as Spotify, Apple Music, YouTube and Digital Radio.
Intended for both mix and mastering engineers, MasterCheck Pro enables producers to audition different codecs in real time to help avoid codec distortion or over-compression, resulting in masters that are perfectly tuned for each digital music streaming service. 'Consumer demand has never been higher for music on streaming apps, download stores, websites and podcasts,' says Nugen Audio Creative Director, Jon Schorah. 'All of these services use data compression and/or loudness matching, which can affect mixes in various unforeseen ways. With MasterCheck Pro, producers can take back control of the listening experience and mix to the streaming services' criteria. They can identify problems ahead of time and optimise their mixes, resulting in music that reaches the listener sounding as originally intended.'
MasterCheck Pro enables auditioning of tracks to assess how they are affected by loudness matching algorithms on different devices and services. Real-time codec auditioning helps users understand how masters respond to different codecs and bandwidths by giving them the ability to preview the mix through different encoding schemes and quality settings. Industry-standard meters show loudness and peak-to-loudness ratio (PLR or dynamic range) and how these factors are affected when the music is played on the target platform. Producers can also A/B the master FX chain with other reference tracks or with the uncompressed mix.
In addition, MasterCheck Pro's loudness auditioning reveals any level changes that may be applied by the streaming service. MasterCheck Pro's true-peak metering ensures the mix is within the delivery spec and guarantees the music won't be clipped at later encoding stages.
'With regard to loudness and codecs, most playout services have a letterbox through which they deliver audio,' Schorah says. 'If the music doesn't meet those criteria, then it will be forced to fit. A heavily maximised master might win the loudness war on a CD, but would simply be turned down on a music service or player – leaving valuable headroom that could have been used for transient detail and punch. With MasterCheck Pro's loudness and PLR features, producers can find the sweet spot between perceived loudness and dynamics, resulting in a master that's optimised to the format.'
More: www.nugenaudio.com