Cedar Audio has announced Cedar for Pyramix 64, which makes some of Cedar's latest 64-bit processes available on Merging Technologies' Pyramix platform.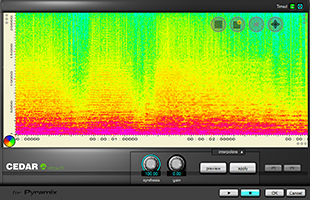 Derived from Cedar's Cedar Studio 7 and Cedar Cambridge flagships, this new suite of processes eliminates a wide range of common problems and significantly improves audio quality. The six processes that comprise Cedar for Pyramix 64 retain the operational familiarity of the orginals.
Cedar Audio's relationship with Merging Technology dates from 1996, when Cedar developed the first broadband noise reduction system for the earliest Pyramix workstations. 'Unfortunately, due to the rapid changes in operating systems and software environments at that time, the original NR-1 product was rather short-lived', explains Cedar Audio Managing Director, Gordon Reid. 'However, our next releases, Retouch for Pyramix (2003) followed by Declick, Decrackle, Dehiss and Dethump (which formed the first Cedar for Pyramix suite in 2004) have endured for more than a decade. But we are aware that Pyramix users have been clamouring for 64-bit audio restoration processes. We could have updated the existing Cedar for Pyramix software, but we all agreed that this would be an excellent opportunity to replace the earlier processes with our latest algorithms and user-interfaces.'
'Our Pyramix restoration customers expect to be able to use the leading audio restoration tools and have been eagerly awaiting the advantages of 64-bit operation – they will not be disappointed,' says Chris Hollebone, Merging Technologies' Sales Operations & Marketing Manager. 'In addition to the performance enhancements of the 64-bit platform, Retouch 7 has been transformed, and the performance of all processes has been dramatically improved.'
Cedar for Pyramix 64 is available now. Users wishing to upgrade from previous versions of Cedar for Pyramix to Cedar for Pyramix 64 should contact a Cedar Audio or Merging Technologies dealer.