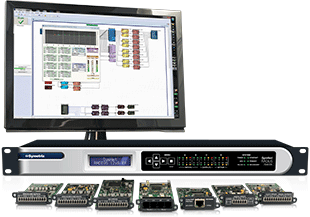 The latest version of the Symetrix SymNet Radius Dante media networking unit – the 12x8 EX – incorporates an I/O expansion slot to enable an existing installation to be expanded quickly and easily as requirements change. Building upon the 12-input/8-output format of the Radius 12x8, SymNet Radius 12x8 EX makes it possible to take the total audio input/output count to 24 within a1U-high format.
The expansion slot supports all standard optional SymNet audio I/O cards, including analogue, digital, AEC, VoIP and telephone. This flexibility paves the way for multiple system configurations: for example, a SymNet 4 Channel Analog Input card yields a 16-input/8-output processor, whilst a SymNet 4 Channel Analog Output card facilitates a 12-input/12-output set-up.
'SymNet Radius 12x8 EX builds upon the foundation established by the Radius 12x8,' says Trent Wagner, Senior Product Manager. 'By accepting any of the standard SymNet I/O cards available, this expansion slot allows the integrator a new level of customisation and future expansion to meet the precise needs of the application at hand. The I/O formats of 16x8 and 12x12 – which are rapidly gaining in popularity across install applications – can both be accommodated by SymNet Radius 12x8 EX.'
Like the Radius 12x8 unit it directly replaces, SymNet Radius 12x8 EX delivers a feature-intensive specification that includes a 64x64 channel Dante network audio bus and built-in GPIO, RS232 and ARC wall panel support offerings for control, alongside free access to Symetrix' ARC-Web browser-based user-interface.
For existing users wishing to upgrade to the new version, a Migration Tool enables previous designs or work-in-progress using the Radius 12x8 hardware to be migrated to Radius 12x8 EX hardware without any modifications or additional work.
'As demonstrated by the launch of SymNet Composer 3.0 and the SymNet 2 Line VoIP Card, the focus at Symetrix is on ensuring great return on DSP investment and easing the day-to-day lives of integrators,' says Wagner. 'It's evident that SymNet Radius 12x8 EX represents another step forward on this path.'
See also:
More: www.symetrix.co