Ahnert Feistel Media Group (AFMG) has released Ease Focus 2.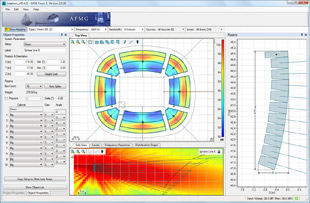 A major upgrade to Ease Focus 1, this adds a host of new features, including: 3D direct sound modelling with plan view and section view displays; simulation of digitally steered columns and other configurable loudspeakers; and modelling of multiple systems within a single project.
Ease Focus v2 combines several years of feedback from Focus 1 users worldwide. In addition to 3D modeling of projects, which can now include multiple systems, Focus 2 allows users to work with configurable loudspeakers, such as digitally steered columns. It also supports the GLL loudspeaker data format and facilitates direct data exchange with Ease and other AFMG software. Other new features are a virtual equaliser for tuning systems within the simulation, and computational coverage of the entire audio bandwidth from 20Hz to 20kHz.
'Ease Focus 2 incorporates research that is summarized in our AES paper titled 'Methods and Limitations of Line Source Simulation,' which won this year's AES Publications Award,' says Stefan Feistel of AFMG. 'We're proud of the advances represented by this software tool, and excited by the growing number of leading loudspeaker manufacturers who have already licensed it. We will continue to offer a 15 per cent introductory discount on manufacturer licenses until December 2010.'
More: http://EaseFocus.com