Now both AAX Native and VST compatible, Cedar Studio 6 adds three new audio processes for sound restoration and processing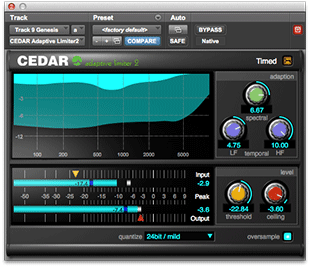 Adaptive Limiter 2 employs a unique algorithm that calculates a continuously varying EQ profile that constrains the output while retaining the integrity of the input. The result is a controlled signal that remains more natural than audio processed using conventional limiters. It also acts as a maximiser with advanced resampling and noise shaping capabilities for mixing, final mastering and other creative uses.
Auto Dehiss is new to Cedar Studio 6, using a more advanced algorithm that enables the software to determine the broadband noise content and remove it without unwanted side-effects or artefacts. A manual mode is also offered for fine-tuning the results.
Debuzz removes unwanted signal components across the entire audio spectrum, and is capable of removing all manner of buzzes and hums with fundamentals as high as 500Hz. Debuzz will also track wandering tones and, unlike traditional filters, can successfully restore your audio without unwanted side-effects such as limited bandwidth or the 'hollow' sound introduced by comb filters.
Declick is also new to in Cedar Studio 6, with impulsive noise detection and a better interpolator than previous declickers for Pro Tools or VST.
Decrackle draws on the technology that underpinned the Cedar CR-1 and can dig into a damaged signal to identify and remove ground-in and 'grungy' crackle without damaging the wanted audio. It also removes many forms of buzz and some amplitude distortions from material as diverse as cylinder recordings and current broadcasts contaminated with lighting buzz.
Declip allows users to identify and remove most instances of clipping in a single pass, removing clipped samples and reconstructing the original signal, improving clarity, reducing or even eliminating distortion, and restoring the original dynamic range of the damaged audio.
DNS One offers the same noise removal as found in other Cedar applications, suppressing rumble, hiss, whistles, babble and general background noise.
Host systems for Cedar Studio 6 are Mac OS-X 10.7 onward and Windows 7 onward. Available formats are Pro Tools AAX Native and VST 2.4. Availability is anticipated to be May 2014.
More: www.cedaraudio.com