The latest version of XTA's iCore system control is now available.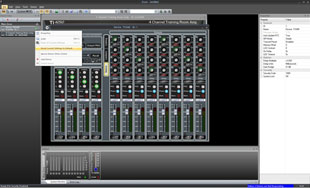 Among the updates, a right-click on 4 Series and Ti/DC1048 devices in the device view revels a Reset to defaults option. This works with all 4 Series, and Ti and DC1048s. While this only affects the current settings (this doesn't delete preset/memories or anything else), it does open all crossover filters and flatten all EQ, setting gains to 0dB and on 1048s routes all inputs to all outputs (so each mix of the matrix is set to 0dB too). On 4 Series, all outputs are routed to input A only. Mutes are enabled on ins and outs to avoid mistakes.
A Move to Zone option augments the drag-and-drop functionality, and works better when there are devices off the bottom of the view list. A right click on any device allows it to be moved to another zone (assuming multiple zones). In a system with more than about 30 devices, the list of units can scroll off the end of the screen, and when there are zones included in this, it can become quite difficult to drag and drop units into the correct zones.
Using Ti amps and network components, the DSP ID searches can now be skipped (where ID number are set via the individual units' front panels), and users can jump to the fixed ID search (that uses the serial number chips built into every amp/breakout box).
In combination with the addition of the zone collapse/expand arrows, there is new status bar notification of any problems with the system, such as a device going offline or an amplifier reaching a temperature threshold.
Zone collapse/expand controls now incorporates warning triangles: an arrow will flash yellow to highlight if there is a problem in the zone, even when zone is collapsed. Any device in a zone that requires attention will change its status indicator from green to yellow or red and the zone's arrow will start to flash – the status bar notification will also change to blue and describe the problem.
Other improvements include a bigger and clearer System Mute button (enabling System Mute on a DC1048 or Ti1048 won't show up on the front as there are no mute buttons or indicators, so if there's no signal through them, perform a System Mute/Unmute operation).
The zone collapse and expand animations have been sped up to help performance on older machines, and the comms system has been overhauled to reduce traffic in large systems - all devices only receive a 'heartbeat' unless they are 'in focus' now so large systems can be monitored at a faster rate.
One final thing - the integrated firmware updater for Ti amplifiers and breakout boxes has been replaced by a firmware checking tool in Tools > Show Device Firmware Status. Firmware updates will now be handled by the standard xta flashloader program and bundled in the zip file along with the firmware files, available on the website.
Improved off-line editing now allows settings to be applied to a connected unit when going on-line. A system can be commissioned in any location; connecting to the devices on-site will enable downloading of all settings, including memories, preset scheduling (1048s only) and current system settings in a single dump. A copy of this is saved as an iCore .icd file for backup.
Additionally, copy-and-pasting of presets from a DP448 to a Ti or DC1048 trim range has been corrected – the trim of output levels should be restricted to6dB around the preset value, but this range was being pasted in at 12dB around the preset value. If the gain trim is enabled when a preset is designed, this 6dB window is not adjustable (so you can't select a 3dB window for example).