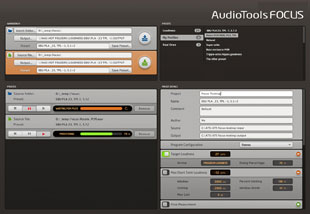 Minnetonka Audio Software has released AudioTools Focus, a family of standalone software processors for broadcast, film, television, radio, over–the–top (OTT), and mobile/handheld (M/H) audio workflow control. The first member of the family is AudioTools Focus for Loudness Control, which claims to be the industry's first self–contained application for automated, intelligent loudness control with simple operation.
Presets provide instant usability, while a simple user interface enables rapid progress assessment. Administration is also uncomplicated, with customised processing to fit individual client and workflow needs.
The system streamlines workflows while proprietary 'pūrPath' signal processing offers high–quality audio, consistency and quick turnaround.
'AudioTools Focus for Loudness Control takes the guesswork out of loudness control and expands the proven AudioTools family with features that broadly address the need for a reasonably priced loudness control solution,' says Jayson Tomlin, VP of Business Operations. 'Engineers working in all aspects of post can craft loudness–compliant material faster and more easily because there's no need to remix to target. Instead, they can rest easy knowing that all content conforms to loudness standards while preserving artistic intent.'
AudioTools Focus for Loudness Control offers loudness control to the CALM, ATSC A/85, EBU R128, ITU-R BS.1770, ARIB TR-B32 and OP-59 guidelines. Its 'pūrPath' digital signal processing, can handle a wide range of source material, retaining its subjective characteristics while adhering to American and international loudness control criteria. In addition, AudioTools Focus includes Dialogue Intelligence for dialogue–anchored loudness correction, enabling smart loudness correction based on the actual percentage of dialog in the material.
The application automatically detects the input format from nine possible file types, adding to simplify set-up. Like the loudness tools in Minnetonka Audio's AudioTools Server, AudioTools Focus for Loudness Control can extract the audio essence within MXF and QuickTime containers, using Minnetonka's ReWrap technology.
AudioTools Focus for Loudness Control also provides detailed logging of both original and post–processed assets, to satisfy internal quality and traffic control or government audits. The host requirements are a Windows Server, a spare USB port, and local or networked storage.
More: www.minnetonkaaudio.com