The Audinate Dante Virtual Soundcard acts like a physical soundcard or audio interface, including the ability to play and record audio using any Windows audio application with standard ASIO multichannel audio support, or any Core Audio Mac application – this includes Cubase, Nuendo and Logic, and additionally for Mac, more general audio applications such as iTunes.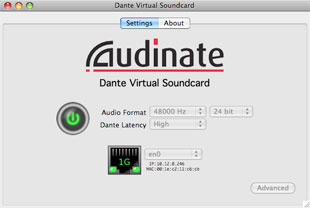 The card is a software solution which turns a PC or Mac into a Dante-enabled device which uses the Ethernet port on the computer to communicate with a network of other Dante enabled devices. No special hardware is required; as long as there is another hardware Dante device in the network to act as clock master, the Dante Virtual Soundcard can enable a PC or Mac to be a source or a destination on the network,
The Dante Virtual Sounds offers the ability to record and playback up to 64x64 channels from a standard computer without the need for a hardware soundcard. 'When we launched the Dante Virtual Soundcard, customers were amazed that they could provide the same level of quality of a hardware soundcard, but all in software,' says John McMahon, Worldwide VP Sales and Support at Audinate. 'Since the Dante Virtual Soundcard is connected by IP over Ethernet, customers have the flexibility associated with networks.'
Now available on-line, the Dante Virtual Soundcard can be purchased as a seven-day, 30-day or permanent license, which can be downloaded directly from Audinate's website.
More: www.audinate.com