SoundField has released the DSF-3 Remote App, a free downloadable software control application for the hardware DSF-3 Digital Surround Processor.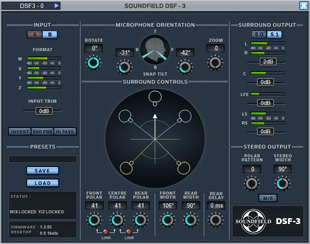 Providing computer-based control of the DSF-3 over USB, the DSF-3 Remote App runs as a stand-alone application on the PC platform. The Remote App also introduces a number of new processing parameters not accessible from the front panel of the DSF-3 hardware, including Snap/Tilt, which enables the Front and Rear Surround signals generated by the microphone to be 'tilted' independently without physically moving the microphone. This feature was introduced in response to feedback from broadcasters, who wished to correct for the fact that raising the DSF-2's front surround signals when it was rigged in stadiums resulted in a lowering of the rear surrounds; now the two may be altered independently.
The DSF-3 was designed to process audio captured by SoundField's DSF-2 digital microphone system, and convert it to simultaneously output six-channel 5.1 surround sound and two-channel stereo, with a high-quality, all-digital signal path. The software format of the Remote App has allowed SoundField to add new features not included on the front panel of the DSF-3: for example, graphical displays are provided showing the extent of front and rear Tilt for the Snap/Tilt feature, and also for the mic's currently selected polar pattern, which is independently adjustable for the Front, Centre and Rear channels via the Remote App.
Other features available exclusively via the software include user-definable delay on the rear surround channels, and a Zoom control for the audio, as featured on SoundField's Surround Zone processing software, which allows users to virtually close in on or zoom out of sections of the audio soundstage in post-production. Being a software application, DSF-3 Remote App is capable of saving and recalling all of its parameters, allowing users to store DSF-3 settings suitable for particular broadcast environments, such as different stadiums or venues.
The processor has become widely used by national and international European broadcasters working in high-definition with 5.1 sound, including BSkyB in Europe and MNET in South Africa. The new DSF-3 Remote App allows the front-panel settings of the DSF-3 to be changed from a connected computer; the DSF-3 rack module can then be removed to a remote rack or machine room if required.
The DSF-3 Remote App is a free download for DSF-3 users, and is available now.
More: www.soundfield.com