L-Acoustics has launched L-ISA 3.0, bringing new features and Mixhalo to its immersive audio platform.
Working dynamically in real-time is a core philosophy for L-ISA, and a new FX Engine allows designers to create reactive movements and trajectories of any kind – reactive to the designer and reactive to other objects within L-ISA to create organic movements. The FX Engine includes fully customisable controls and behaviours that can be additively applied to unlimited objects, allowing even simple mixes to be brought alive in new and complex ways.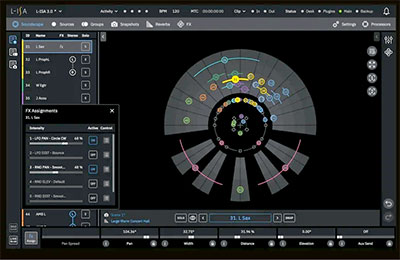 While an increasing number of venues around the world employ L-ISA immersive audio configurations and 3D mixing capabilities, visiting artists may not have their content ready in an immersive format while on tour. For these artists, the new Stereo Mapper feature maps existing stereo content to an immersive configuration without changing the original mix. Stereo Mapper distributes stereo content to an L-ISA configuration while conserving a similar power distribution as traditional left/right array configurations to retain the original stereo image and overall mix.
Stereo Mapper allows L-ISA venues to welcome artists who prefer to perform in stereo without the need to change their L-ISA configuration, with the further benefit that low-frequency coverage is increased – reducing or even improving the stereo image while maintaining or improving low-frequency directivity. Out fill loudspeakers can be time aligned to either stereo or immersive, making switching between stereo and spatial content seamless or even achievable on the fly. Sound engineers and artists who perform in venues equipped with Stereo Mapper can step into spatial audio with a stereo-mapped mix – the new functionality makes it easy to widen one or two sound objects beyond the traditional left/right positioning. Step by step, moving up to a fully spatialised mix will be easier than ever, using Stereo Mapper as a starting point.
An entirely updated Snapshot Engine provides increased granularity and scope of what can be stored in snapshots, allowing users to choose which sources are visible at any given moment in time, with features such as source processing, delay and reverb, giving precision control over spatial mixes for both live sound and studio applications.
A new Edit Mode allows users to visualise the position of audio sources in each snapshot, making it easier to follow an object's position across the soundscape at a specific moment in time. Preview Mode, available for both online and offline use, makes it possible to visualise the position of specific objects in different snapshots or an object's position throughout every snapshot. If changes are needed, users can make on-the-fly adjustments in Preview Mode without interruption or downtime.
In a move to make immersive experiences more accessible, L-Acoustics is expanding the L‑ISA ecosystem to accommodate qualifying third-party applications and technologies on the L-ISA Processor II. The first application to natively leverage L-ISA processing is Mixhalo, an ultra-low latency networking technology that unlocks high-fidelity, augmented audio for fans at live events.
'As consumer audio platforms such as Apple Music, Tidal, and Amazon Music continue to make spatial audio more ubiquitous, having the ability to create and perform in immersive is now a necessity and accessible to all – regardless of skill level or format,' says Director of Product Management, Software & Electronics, Scott Sugden. 'The new L-ISA 3.0 platform brings more value to our immersive technology platform for those who've chosen to use it in their venues and for those who choose to create their content with it.'
In addition to the various new functionalities in L-ISA 3.0, the L-ISA Studio desktop processor has gone from 12 outputs to 16, giving expanded options for immersive sound content.
See also: