Symetrix has announced its expanded control solution, Symetrix In Control, extending the control possible from a single processor to design, display and implement tailored user interfaces and system control solutions.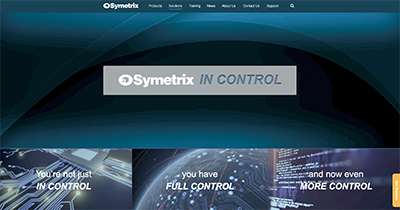 Following the T-5 Glass Touchscreen remote and the W Series IP remotes, the addition of Lua Scripting in Symetrix Composer 8.0 software completes Symetrix In Control. Everything needed to get started is available on the Symetrix website for instant access to control with no additional fees or licences. – whether programming a system for small restaurant or a 50,000-seat stadium.
Arc-Web is an out-of-the-box virtual user interface that can be used on a smartphone, tablet or PC as a standalone primary control system or in addition to other Symetrix control hardware. Arc-Web can control presets for volume, mute, and source selection for any application. The Web-Based Event Scheduler is a free addition to the Control Server allowing access to events and scheduled presets by time and day, providing a way to automate routing, source selection and volume for daily changes, special events, holidays or other automated configuration changes. The Web-Based Event Scheduler is accessible from the Control Server using any web browser on a connected smartphone, tablet or PC.
SymVue control software offers GUI authoring including full control over colours, fonts, custom symbols and graphics to satisfy exacting requirements. Parameter changes and indicators on all control devices are kept in perfect synchronization, and work alongside Symetrix ARC remotes, W Series remotes, Arc-Web and other third-party control systems.
T-5 Touchscreen remotes provide access to custom SymVue control screens created for specific systems and tailored to specific needs. Bright, high-resolution screens with responsive touch control provide users' control in a desktop or wallmounted configuration.
Intelligent Modules provide further control from the same Symetrix DSPs, reducing the complexity of a system by increasing the value of the signal processor and eliminating the need for unnecessary hardware and programming. Symetrix Composer 8.0 unlocks unlimited Intelligent Module creation and use with no additional fees.
Lua scripting allows end-users to create custom Intelligent Modules for Symetrix Composer 8.0, providing solutions for tasks as simple as handling a fire alarm system mute, more complex tasks like changing camera positions based on detected audio levels in a city council chamber.
Symetrix doesn't charge additional fees or licences to access the full range of control options.