The Plugin Alliance has announced ADPTR Audio Streamliner, a plug-in to help optimise music masters for all major streaming services.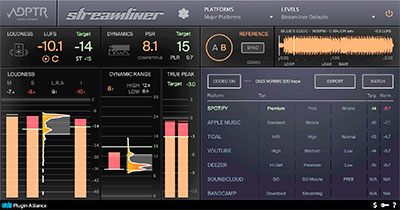 ADPTR Audio Streamliner's simple and comprehensive codec auditioning feature allows audio to be preview audio through the same algorithms used by Apple Music, Spotify, Tidal, YouTube and other streaming platforms. The plug-in also serves as an metering suite, combining meters for Loudness, Dynamic Range and True Peak levels – complete with Target levels.
Additional features include loading, comparing and level-matching reference tracks using ADPTR Audio Streamliner's integrated A B Reference switching system, as well as exporting tracks at all bitrates used by each major platform – enabling users and their clients to preview audio on a variety of listening systems.
Comprehensive codec selection is available, including those used by Apple Music, Bandcamp, Beatport Pro, Deezer, Facebook Video, Gaana, Instagram, Mixcloud, Napster, Pandora, Primephonic, Soundcloud, Spotify, Tidal, Twitch and YouTube Music, allowing mixes to be heard as they will sound to service listeners and discover how much loudness normalisation will affect a master when it is featured in playlists alongside other tracks.
ADPTR Audio Streamliner is available for purchase as an AAX AudioSuite-, AAX Native, AU, VST2 and VST3 plug-in for macOS 10.9 through 10.15 and Windows 7 through 10.
More: https://www.plug-in-alliance.com/en/products/adptr_streamliner.html