Following the launch of the HQ Precision Pre-Amp/DAC last year, Drawmer has expand its HQ family with two new units. The HQ-r is a wired remote controller that can drive single or multiple HQ units simultaneously, while the HQ-b is a remotely controllable HQ module without front-panel controls for control via the new HQ Remote.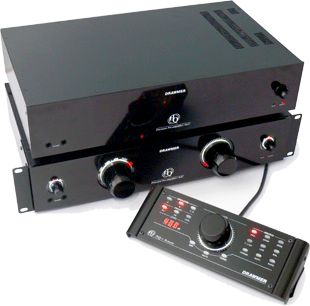 More than a simple remote control, the HQ-r extends the HQ's functionality and makes it better suited to use in critical listening environments. The HQ Remote adds a mono/stereo switch, user-defined volume level presets, a digital master volume display, and Mute and 'intelligent' (level-dependent) Dim controls. The unit can also act as a master volume controller for multiple linked HQ units, in a 5.1 surround master volume control system that incorporates Drawmer's preamp and D-A conversion technology.
When the HQ Remote is plugged in, a red Status LED illuminates, the HQ front-panel controls are disabled, and all volume, muting and source-switching functions can be carried out from the HQ-r. The remote's large illuminated Volume control takes over the duties of the HQ's front-panel knob, and the input audio source is determined by nine backlit push-buttons, one for each of the HQ's five digital connections (AES, S/PDIF, AES3, TosLink, USB) and its four analogue stereo inputs (balanced XLRs, two auxiliary line inputs, and a further aux line input with a switchable RIAA for vinyl replay, which allows users to directly connect a turntable without the need for an external preamp). A trio of speaker selection buttons, marked 'A', 'B' and 'A/B', allows users to switch between the HQ's two sets of speaker connections, A and B, or drive both sets simultaneously, making instant monitor switching simple for mix referencing purposes.
Additional Mute and Mono buttons enhance the HQ's capabilities, the 'intelligent' Dim control sensibly reduces playback volume by an amount dependent on the current output level, and the three-figure digital volume display gives a gain readout accurate to within half a decibel. Two user-defined volume level presets may also be accessed via the P1 and P2 buttons, for comparison of output levels in environments where accuracy is crucial, such as mastering studios. Weighing a reassuring 0.8kg, the HQ Remote allows access to all the functions of the HQ Pre-Amp/DAC, plus many more, all from a solid, compact desktop unit.
The HQ-r and HQ-b are shipping now.
More: www.drawmer.com