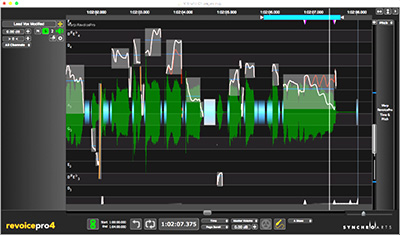 Launched in 2012, Synchroarts Revoice Pro provides timing and pitch adjustment for vocals, dialogue and instruments for music and postproduction in a DAW app.
The program plays on its ability to retain the natural sound and feel of the original recording, even while performing significant adjustments to the audio. Revoice Pro's Audio Performance Transfer (APT) function can clone the timing, pitch and level of one audio track and apply it to another (or several others) for tightening up multi-layered vocal tracks, and for dialogue replacement in film. Revoice Pro also offers comprehensive manual adjustment of timing, pitch and vibrato, a de-esser and a fantastic sounding doubler.
Revoice Pro 4 brings more than 70 new features and improvements. Highlights include the Vibrato Warp function, which intelligently identifies a singer's vibrato characteristics, and retains them, even when time stretching or compressing the voice. With other time-modifying applications, the vibrato speeds up or down when the length of a part is altered. The Audio Performance Transfer has been refined, and users can choose between APT Music and Dialog modes depending on the task at hand, for even better results when aligning the pitch, time or level of one track to another. Numerous graphic and workflow improvements, such as user-definable key commands, have also been implemented.
Revoice Pro is now ARA 2 compatible, which means significantly improved integration with ARA 2-ready DAWs. Revoice Pro 4 users now have the choice to use iLok Cloud licensing for authorisation, meaning there's no need for an iLok USB Key to run or try the application.
More: www.synchroarts.com