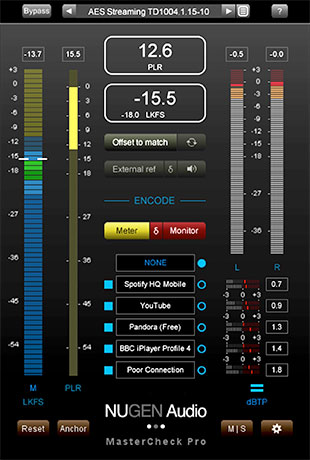 Nugen Audio has announced v1.4 of MasterCheck Pro, adding Free Lossless Audio Codec (Flac) and Opus encoding to its loudness, dynamics and codec toolset.
Supporting mix optimisation for playout encoding and loudness matching use by music streaming services such as Apple Music and Spotify, MasterCheck Pro now offers Flac and Opus – while Opus is one of the YouTube formats, Flac is often used for downloads as high-quality (lossless) format on music streaming service Tidal.
Like other lossless formats, Flac uses compression algorithms to preserve audio data but is generally used to encode at 16 bits. Conversion from 32 to 16 bit is not guaranteed to lossless, however. Additionally Flac uses integers while DAWs operate floating-point processing, so there is an additional complication even when producing a 32-bit Flac stream.
MasterCheck Pro can be used to audition these conversions while a forthcoming update to ISL – Nugen Audio's transparent look-ahead limiter for true-peak compliance – can soon be used to add suitable dither to mitigate the effect of quantisation errors if necessary.
Nugen Audio maintains MasterCheck Pro as a complete solution for optimising mixes for music delivery services. Streaming apps, download stores, websites and podcasts all use data compression, loudness matching, or both. These processes can affect mixes in various undesirable ways with what once sounded loud and punchy possibly ending up quiet and flat, or suffering from clipping or distortion. By using the updated MasterCheck Pro, problems are identified ahead of time.
More: www.nugenaudio.com