Mutec's Ref 10 Reference Clock Generator promises performance enhancement for compatible DACs, master clocks and re-clockers, providing an ultra-low noise, high-stability clock reference for the entire digital audio chain in the recording and mastering studios, and domestic applications.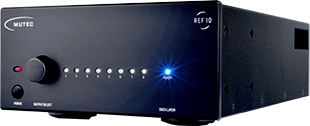 'Currently available digital converters, master clocks, and audio re-clockers perform acceptably when reproducing or processing digital audio,' says Mutwc CEO, Christian Peters. 'Even so, we felt that existing solutions fall short of delivering the full potential of audio productions, so we set out to investigate the possibilities to further enhance the performance of digital audio systems. To do so, we recruited one of Germany's most renowned RF engineers to join our R&D team. Together we developed a master clock generator with a technical performance beyond what we thought could be possible. The effects of the technical performance were then verified by a group of experienced beta testers to ensure that the high-end performance translates to best-in-class sound.'
Due to its ultra-low noise characteristics and its unrivaled flexibility the Ref 10 can enhance the audio quality of compatible audio clocks, converters, interfaces,and re-clockers to the highest level currently achievable. It offers sn upgrade for Mutec's 10MHz-ready products such as the MC-3+ and MC-3+USB Smart Clocks. Eight simultaneous clock outputs at both 50Ω and 75Ω impedance allow using the Ref 10 in combination with not just Mutec products, but also 10MHz compatible products from third-party manufacturers, such as Antelope, Tascam, and dCS.
Mutec research shows the high clock stability of 'atomic clocks' based on a rubidium or caesium oscillator is limited to the long-term time domain. While this long-term stability may be useful for some telecommunications applications, it is essentially irrelevant for digital audio purposes. Instead, it's the short-term stability measured as jitter or phase-noise that really matters for high-end audio. The Ref 10 is engineered around Mutec's handcrafted, oven-controlled oscillator (OCXO) made in Germany, featuring highest clock stability in the time domain relevant for exceptional digital audio performance.
Key features:
· Improves and enhances compatible master clocks, converters, interfaces, and audio re-clockers.
· Eight galvanically isolated, individually switchable BNC clock outputs (50Ω and 75Ω impedance for compatibility).
· Sub-Hz optimized, lowest noise power supply for every circuit section.
· Highly efficient power line filtering.
· Integrated, highest-quality international linear power supply.
· Rackmountable with optional mounting brackets for studio use (2U).
More: www.mutec-net.com