Claiming 'a mixing room experience when using headphones', French company Blue Cat Audio has released the Re-Head plug-in for macOS and PC.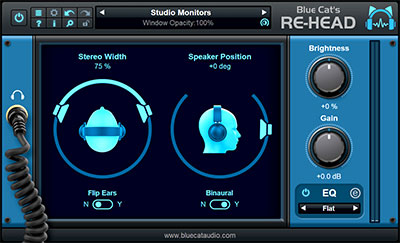 Re-Head is based around a head response model that simulates the way the listener's head affects the audio coming from the studio monitors. To create a simulated acoustic space, Re-Head also uses stereo processing to avoid the hard-panned sound associated with listening on headphones, a spectrum analyzer and EQ. It is also possible to add an impulse response representation of a particular mixing room.
'Listening through headphones gives a distinctly different experience compared to listening through studio monitors,' the company says. 'Furthermore, prolonged use of headphones can be fatiguing. These are the problems that Blue Cat Audio has sought to solve with Re-Head.
'Re-Head can not replace studio monitors, but rather make the transition from speakers to headphones – and vice versa – a less dramatic one.'
Key features:
Head response modelling.
Adjust the position and the angle between the virtual speakers.
Adjust the brightness.
Built-in EQ and spectrum analyser.
Impulse response (IR) loader to mimic listening room.
Frequency compensation for a number of popular headphones.
Flip left and right channels.
Zero latency.
More: www.bluecataudio.com