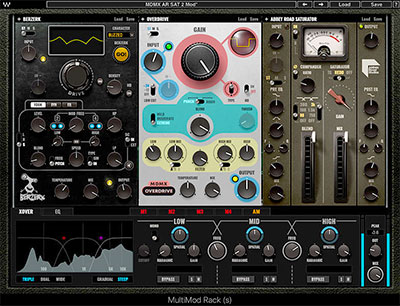 Waves Audio has released a multiband modulation rack for its recently released distortion plug-ins – the Abbey Road Saturator, Berzerk and MDMX. MultiMod Rack has three plug-in slots, each of which can host Waves' distortion and saturation plug-ins: the vintage analogue-modelled Abbey Road Saturator, the modern waveshaper-based Berzerk, and the MDMX's Screamer, Overdrive and Fuzz modules.
MultiMod's three slots divide the input signal into three frequency bands – lows, mids and highs – with adjustable crossover controls, allowing combinations of processing such as Berzerk on lows, MDMX overdrive on mids, and analogue Abbey Road saturation on your highs by assigning the different plug-ins to different frequency bands to separately control the distortion in each. Reshuffling the chosen plug-ins between frequency bands will significantly change the sound, for wide tonal diversity. Each band also offers controls for level, stereo panning and harmonics, for control of the distortion in each frequency area.
MultiMod's five modulators allow modulation of nearly every individual parameter of the plug-ins, for musical and creative flexibility. LFO, sequencer and amplitude modulation options take processing into sound-design territory. There is also a post-processing EQ section that can be extensively modulated.
See also:
More: www.waves.com