First in a new line of soon-to-be-released distortion plug-ins, the Waves Berzerk is a designed for 'wild, unhinged and creative distortion'.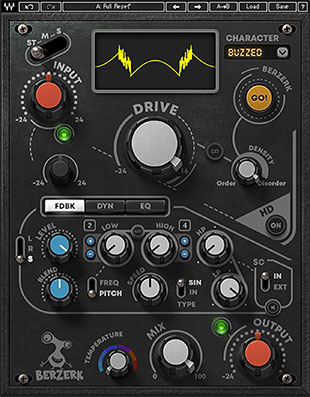 Waves' engineers started to design Berzerk by first amassing a large array of well-loved distortion units of all types: amps, tube devices, stomp boxes and old analogue units. They then went on to develop original custom wave shapes based on their all-time favourite distortion curves. The plug-in offers ten all-original distortion shapes, advanced feedback, pitch, dynamics, sidechaining and M/S options for versatile experimentation, plus a Go Berzerk! button for random madness. Some transform the sound to add grit, dirt and character; others reach unprecedented sonic extremes.
The Go Berzerk! button creates random variations in each waveshape; the Density knob shifts the waveshape in amplitude; the Feedback section mimics an onboard analogue synth – it can either run a tunable sine wave through the signal, producing interesting bass lines, melodies or rhythms; or it can oscillate while riding the input. It also includes a Speed knob to shape the groove, as well as octave, pitch, range and blend adjustments, all of which can be sidechained.
The Dynamics section sits before the distortion and twists the character of the generated harmonics. The Up/Down knob controls a gate/expander, which, after setting the threshold, will affect the range of sound affected by the clipper. The Rider option rides the amount of gain hitting the distortion, giving you full dynamic control.
Berzerk also offers unique M/S processing, distorting just the mids or just the sides when needed; a master Temperature knob to control the overall colour and feel of the output; and an overall mix knob.
Key features:
Ten original distortion shapes with wildly different personalities.
Go Berzerk button to randomize each distortion shape in surprising ways.
Versatile Feedback oscillation section.
Dynamics section to gate, expand or ride the input.
M/S processing.
Detailed EQ section.
Temperature control to set overall signal colour/warmth.
See also:
Waves Abbey Road Saturator/MDMX Distortion Modules