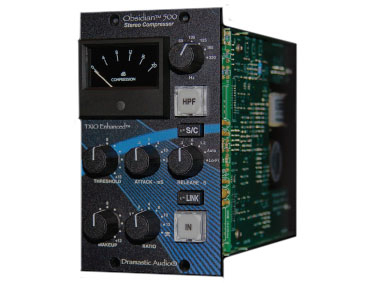 The Dramastic Audio Obsidian 500 stereo compressor is derived from the circuit design of the 19-inch rack version of the unit, but adds a selectable high-pass filter and a gentle 1.5:1 gain ratio option.
In addition to the release of the D/A/O 500, there will be a Dual Mono expansion module, with independent metering for each channel, and the addition of the inputs to the side chain. 'The 500 series is in demand, and the Obsidian in this guise is not only equally as good as the rack format but offers even more flexibility,' says KMR Sales Manager Stefan Pope
The specification includes: TXIO enhanced transformer balanced I/O, precision stepped controls, VCA feed-forward compression, selectable internal high-pass filter, expansion port, the option to link multiple modules and selectable pad settings.
More:
www.dramasticaudio.com