Waves Audio has announced support for Amazon Web Services (AWS) and NDI (the globally standardised video-over-IP technology) with the Waves Cloud MX Audio Mixer.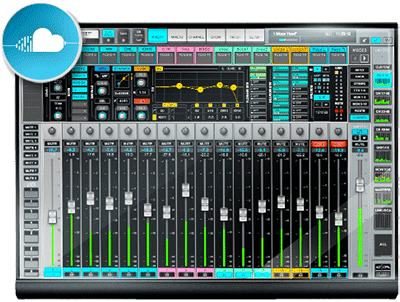 The move to cloud-based broadcasting has accelerated rapidly over the past two years, with broadcast and media organisations are increasingly moving to cloud-based production environments. At the core of these next-generation workflows are cloud-based production tools that enable remote integration (REMI) and distributed operations. Processing, mixing and routing the production audio directly in the cloud completes this new-generation workflow from source ingest to programme distribution.
Waves Cloud MX Audio Mixer is now used by customers on Amazon Elastic Compute Cloud (Amazon EC2) for reliable, high-performance and cost-effective computing infrastructure throughout an event. Customers can use the mixer on instances in any of the available Amazon EC2 geographical locations to optimise network performance between the cloud, remote operators, and on-premise equipment.
With Waves' Cloud MX Audio Mixer operating on AWS, users have scalable processing resources to match an event's requirements and budget – secure cloud access, which enables production staff to work from anywhere while protecting broadcast media and data; reduced operational costs through streamlined staff scheduling and consolidated workflows; and reduced capital expenditures using scalable cloud resources in place of on-premise and OB hardware investments.
NDI compatibility supports use in NDI-based environments, with easy patching and routing of NDI audio streams.
NDI (Network Device Interface) is a high-performance network protocol for transporting media streams over Ethernet. NDI, part of the Vizrt Group, is a royalty-free technology that allows video and audio sources to be shared bi-directionally across a network, eliminating the need for costly direct connections, expensive cable runs, and infrastructure upgrades while turning every source into a destination instantly available anywhere on the network.
Broadcast and media production teams can now add Waves' Cloud MX Audio Mixer directly in the cloud workflow with easy routing of audio inputs and outputs via NDI.
'We adopted NDI technology, as it is a proven system for professional cloud production environments,' says Mick Olesh, Waves Managing Director and EVP of Sales. 'The ability to process, mix and route all audio streams in the cloud, and without converting protocols, simplifies the workflow so that production teams can now focus on delivering a superior sounding program feed to the audience.'
'The cloud is revolutionising live production and creative workflows,' says Suso Carrillo, NDI Marketing Lead at Vizrt Group.'Broadcasters and creators need professional audio tools to manage audio streams seamlessly over the cloud. With Waves Audio adopting NDI, the Cloud MX Audio Mixer now offers mixing, processing, and routing without the need for converting or transcoding, thanks to NDI and its wide adoption.'
See also: