Waves Audio has announced the Cloud MX Audio Mixer, enabling broadcasters and media organisations to add audio mixing and processing to professional cloud-based workflows.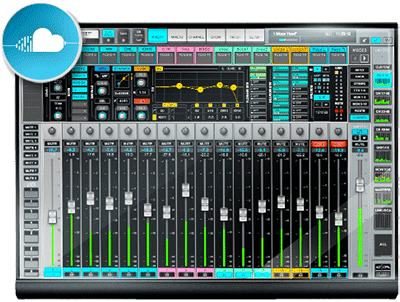 Cloud MX Audio Mixer uses a double-precision 32-bit-float mixing engine, augmented by Waves' library of cloud-licensed audio plug-ins. It is NDI-compatible, fitting readiy into NDI-based environments, with easy patching and routing of NDI audio streams. It is also easily deployed on AWS, for straightforward integration with cloud production systems.
The service makes it easy to scale productions with any number of audio mixers, without the operational costs involved in shipping, maintaining or scheduling on-premise gear and personnel. It can run chains of up to eight cloud-licensed plug-ins directly on any channel inside the mixer itself.
All Waves Cloud MX Audio Mixer packages come with the cloud-licensed Waves eMo plug-ins (eMo D5 Dynamics, eMo F2 Filter and eMo Q4 Equalizer), which form the mixer's channel strip. Expansion of audio capabilities is available by upgrading to Cloud MX Audio Mixer Plus, with 11 extra cloud-licensed plug-ins such as the Primary Source Expander for automatic mic bleed elimination, the Renaissance Vox vocal compressor, the F6 Floating-Band Dynamic EQ, MaxxBass and L2 UltraMaximizer; or to, Cloud MX Audio Mixer Premium which adds more than 150 cloud-licensed plug-ins.
Cloud MX Audio Mixer's control options include multiple touchscreen support, plus tactile mixing with the Waves FIT controller and/or Mackie/MIDI controllers.
Key features:
Full cloud-based audio mixing.
Easily scalable to any broadcast requirement.
NDI-compatible with routing of NDI audio for ingress/egress streams.
Easy deployment on AWS.
32-bit floating point mix engine; up to 96kHz sample rate.
64 stereo/mono input channels, 44 bus/return channels.
16 monitor auxes and 8 FX auxes (stereo/mono), 8 audio groups, L/R/C/Mono, 8 matrixes (stereo/mono).
16 DCA faders, 8 mute groups, 8 user-assignable shortcut keys.
Cloud-licensed channel strip eMo plug-ins (dynamics, filter, EQ) included.
Also available: Cloud MX Audio Mixer Plus with 11 additional cloud-licensed plug-ins;and Cloud MX Audio Mixer Premium with over 150 cloud-licensed plug-ins
Full operator-control with Waves FIT controller and/or up to 4 touchscreens.