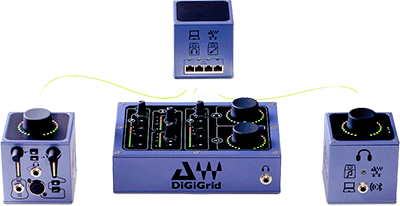 DiGiGrid has extended its I/O line of products with the launch of the Desktop series. The range includes the [Q] Headphone amplifier, [D] Desktop interface, [M] Musician recording interface and [S] PoE Switch, aimed at the recording, monitoring, and creative development markets.
Part of DiGiGrid's Networkable solutions, the units allow total integration with any other DiGiGrid product.
The [Q] Headphone Amplifier is a high-end audio interface measuring 90mm cubed, designed to drive headphones at high volume. Coupled with an AES/EBU interface, it allows a direct digital interface loud enough for drummers. [Q] features quarter-inch and 3.5mm outputs, so can accommodate in-ear or headphone product, and has four input options to suit all users: XLR (for professional use), Ethernet/Cat5 (to connect to the SoundGrid Network for true audio networking), analogue (for the consumer audiophile) and Bluetooth, for working directly with a digital music library.
The [M] Musician recording interface boasts two inputs and two outputs, again, at 90mm cubed. It is plug and play, with simultaneous monitoring and recording capabilities through two dedicated I/O. Input one is a dedicated mic/line, and input two is instrument/line. Audio capture is via high-quality converters and industry-proven mic preamps. Listening back is via a dedicated high-power headphone output. There's also an optional mic-stand adapter plate, which works with both [M] and [Q].
Designed in the same way as [M] and [Q], the DiGiGrid [D] is the more expansive option, with four inputs rather than two, and six outputs. Inputs one and two are mic/line, and three and four are line/instrument. There are two outputs with level control – for monitoring – and two further fixed level line outputs.
The DiGiGrid [S] is a fixed networkable power source featureing one upstream (non-PoE) port, and four downstream PoE ports, which allow connection to four further DiGiGrid devices. [S] is also Dante compatible.
'I knew that, with this range, our superb design team would achieve the sonic quality and network capability synonymous with DiGiGrid products, but they even surprised me with the ultra-compact footprint and the extremely attractive price point,' says DiGiGrid's Mick Anderson.
The Desktop series will be available from Spring 2016.
More: www.digigrid.net