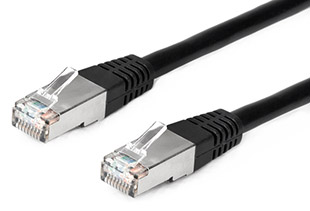 Hosa Technology has introduced its Cat-600BK Series Cat6 Network Cables.
Featuring 24AWG Oxygen-Free Copper (OFC) conductors for increased signal flow, Cat-600BK Series cables meet ANSI/TIA standards with low crosstalk and return loss and high signal-to-noise ratio. To further minimise interference, the cables use S/FTP construction, shielding each twisted pair as well as the overall cable. This construction makes Hosa's network cables suited to audio and video networks such as HDBaseT.
'Hosa has long been recognised as a leader in cable products and our new Cat-600BK Series cables extend this tradition,' says Hosa Technology Product Manager, Jose Gonzalez. 'With S/FTP construction and 24 AWG oxygen-free copper conductors, these cables offer maximum signal transmission with minimal interference and are bound to find their way onto many of today's high-speed Ethernet and A/V networks.'
Hosa Cat-600BK Series Cat6 Network Cables are available now, with MSRPs ranging from US$10.50 to US$193.05.
More: www.hosatech.com