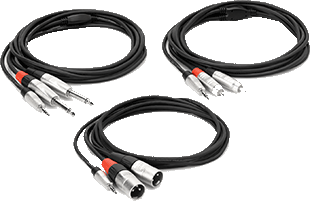 Hosa Technology Pro Breakout cables are aimed at interfacing consumer audio with professional equipment – any consumer product equipped with a stereo minijack output can be interfaced with professional units sporting quarter-inch TRS jack, XLR or RCA connectors.
Pro Breakouts are available in three configurations – the 3.5 mm TRS (tip/ring/sleeve) to dual RCA option (the HMR-000Y Series) for DJ mixers or home stereo systems; the 3.5 mm TRS to dual quarter-inch TS (tip/sleeve) breakout the HMP-000Y Series) for patchbays or mixer phono inputs.; and the 3.5 mm TRS to dual XLR3M breakout (the HMX-000Y Series) for connecting into discrete channels on a professional mixer or similar interface.
All three configurations use nickel-plated REAN connectors for signal integrity and durability, and 24 AWG Oxygen-Free Copper (OFC) conductors with 90% OFC spiral shields.
'The growth of portable audio products such as iPods, smartphones, and tablets has changed the requirements of live audio,' says Jose Gonzalez, Hosa Technology Product Manager. 'Even in the most professional live audio and studio setups, people frequently need the ability to add a consumer media player into the mix. When this situation arises, they need to be able to count on the cable they're about to patch in. Hosa Pro Breakouts make trusting one's cable easy. All three configurations make the process of interfacing consumer audio products with professional gear quick and seamless."
The HMR-000Y and HMP-000Y Series are available now and include their respective cables in 3-, 6- and 10-ft lengths. The dual XLR3M HMX-00Y Series will be available January 2015, in 3-, 6-, 10- and 15-ft lengths. MSRP pricing ranges from US$16.65 to US$29.10, depending upon connectors and length.
More: www.hosatech.com