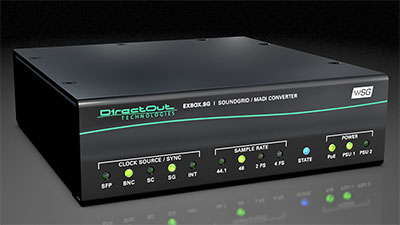 German pro audio specialist DirectOut has announced ExBox.SG and SG.IO, two new products supporting SoundGrid, adding the Waves' audio networking technology to Dante and Ravenna on the list of formats supported by the company's ExBox and Prodigy Series.
ExBox.SG is a Madi/SoundGrid interface and it is the latest addition to DirectOut's ExBox Series, a compact yet powerful series of devices housed in one third of a 19'-inch frame. The company describes the design concept as 'straight and simple', with 128 SoundGrid channels that can be routed in blocks of 64 channels towards any of the three Madi ports of the device (coaxial BNC, optical SC and SFP). At the same time, it also works in reverse, with two Madi ports routed towards SoundGrid for conversion of a further 128 channels.
ExBox.SG can be powered by up to two external power supplies, as well as PoE (Power over Ethernet). Four network ports are linked to an internal switch and can be used to connect directly to redundant recording systems and plug-in servers without the need of an additional switch.
SG.IO is a new module for the Prodigy Series, offering extremely low latency transport of up to 128 audio channels. It comes with the optional HD SRC technology, enabling asynchronous operation between the module and the Prodigy mainframe.
ExBox.SG and SG.IO are offered as connectivity tools for mixing in OB vans or live sound environments, for recording sessions as well as studio applications integrating numerous Waves and third-party plug-ins.
More: www.directout.eu