Klotz expanded its Pro DMX cable series, which is now available with XLR 3 p connectors.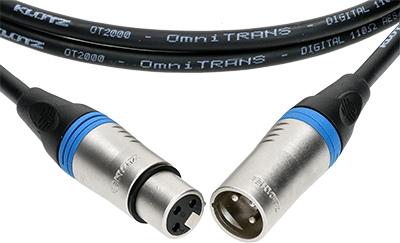 In addition to Pro DMX cables from the LX-5X series with XLR 5 p connectors, Klotz now offers XLR 3 p connectors (LX-3X) with an exact characteristic impedance of 110Ω.
The LX2 is an ultra-flexible touring DMX cable made from high-end OT2000 digital cable. The LX3 uses the OT206Y double-shielded supreme digital cable with black jacket, while the LX4 is made with the OT206Y with blue jacket. For the LX5 series, Klotz uses robust and road-ready OT206PB cable with blue PUR jacket, making this cable ideal for rough everyday touring. The range is rounded off by the LX6 with complete five-way pin assignment. The double-shielded supreme digital cable DC422CY guarantees interference-free data transmission even over very long distances thanks to the use of an AL/PET foil and an additional copper braided shield.
The Klotz Pro DMX cable series are equipped with transparent shrink sleeves on both sides, and is available with both XLR 3 p. and XLR 5 p. connectors by Klotz or Neutrik according to ISO 9001:2015.
More: www.klotz-ais.com