ARX has released the USB Ultra I/O VSR Broadcast, a 24-bit high-resolution, two-channel USB play and record digital/analogue pro audio interface.
Bringing a further interface 'essential' to the ARX portfolio, the USB Ultra I/O VSR Broadcast removes the need to use soundcard outputs, with their inherent noisy environment and problematic grounding. It is ideal for interfacing USB equipped computers with the balanced inputs and outputs of professional sound systems, the full transformer balanced inputs and outputs on the USB Ultra I/O VSR Broadcast provide the isolation required to eliminate earth loops/ground hum and other extraneous interaction noise and distortion.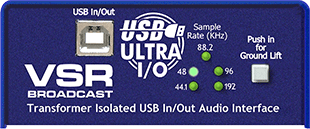 The USB Ultra I/O VSR Broadcast offers analogue-style recording headroom with analogue 0dB In converting to -18dB and FS Digital providing headroom when recording in the digital domain. The -18dB digital signal reverts to 0dB analogue output, giving the best of both analogue and digital. In addition to the standard sample rate of 44.1kHz, the unit also offers 48kHz, 88.2kHz, 96kHz and 192kHz sample rates.
As part of the ARX Audibox range the USB Ultra I/O VSR Broadcast is plug-and-play, installing as a fully compatible generic USB audio device and requiring no special driver program installation on Windows 10 or Mac OS-X. The front panel features a standard Type B USB connector, as well as a ground lift switch and status LEDs indicating the sample rate selected or available. The rear panel has left and right transformer balanced analogue Amphenol XLR Input and output connectors that connect to any standard balanced analogue inputs and outputs.
Handmade at the ARX facility in Melbourne, Australia, the ARX Ultra I/O VSR Broadcast is available to order and shipping now.
More: www.arx.com.au