RME has introduced the HDSPe AIO Pro PCI Express interface card, the successor to the earlier HDSPe AIO with the same high channel count and analogue/digital input and output options but 'completely reworked, defining the current state-of-the-art in PCI Express cards'.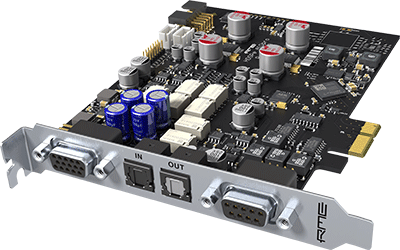 This PCI Express audio interface is an all-in-one solution, offering analogue stereo inputs and outputs, an additional headphone output, plus Adat, SPDIF, AES/EBU and Midi I/O. Like its predecessor, all I/O can be used simultaneously. It features a total of 30 channels (14-input/16-output), each supporting up to 24-bit/192kHz audio.
The RME HDSPe AIO Pro is based on the reference processors (AK5572 and AK4490) derived from the RME ADI-2 Pro AD/DA converter, with the analogue input range also using the same circuit design as the ADI-2 Pro (+24/+19/+13/+4dBu). In addition, RME has enhanced the outputs with additional reference levels (balanced: +24/+19/+13/+4dBu; unbalanced: +19/+13/+4/-2dBu), allowing for more versatile integration into a wide range of professional audio systems.
A dedicated attenuator in the output section results in an increased signal-to-noise ratio, along with a lower output impedance at low reference levels. A further feature is the newly developed and transparent headphone output.
Tthe HDSPe AIO Pro features RME's latest SteadyClock FS digital clocking and jitter rejection technology. Based on a femtosecond clock (accurate to 10-15, or one quadrillionth of a second), SteadyClock FS reduces the intrinsic jitter when converting from and to analogue over all digital formats to a new all-time low.
The HDSPe AIO Pro also features RME's TotalMix software mixer, providing full control over all analogue and digital inputs and outputs. Any combination of audio channels can be combined and routed to the outputs as submixes, allowing for complete flexibility when creating monitor mixes or routing to external audio devices.
Network control over the HDSPe AIO Pro is also possible via the free TotalMix Remote app, and an additional set of professional audio analysis tools comes courtesy of RME's DIGICheck software suite.
The RME HDSPe AIO Pro PCI Express card will be available from September 2020, and is available in the UK through Synthax Audio UK.