VB-Audio virtual cables are now available for macOS (v10.10-10.15/64 bits), supporting connection of audio applications together.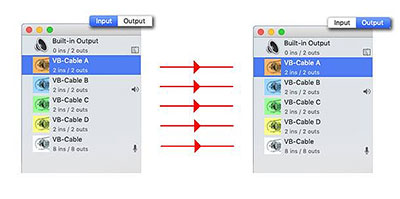 The VB-Cable is a simple virtual audio device presenting a single input and a single output. All audio sent to its input is forwarded to its output, making it easy to create audio routes between any audio software by connecting player applications to recorder or capture ones, possibly passing through a DAW to process the sound or VoIP applications. It can be used in a recording environment, or to facilitate interconnection between different audio tools.
VB-Cable works on installation, without any configuration necessary. Users select the input in one application and the output in other, and sound will be transmitted from the source one to the destination. VB-Cable for Mac supports up to eight channels in all standard sample rates from 44.1kHz to 192kHz.
While VB-Cable is already widely used on PC as simple virtual audio device, we are proud to finally offer this product for Mac,' says company founder, Vincent Burel. 'Many people have asked for a Mac version, but it was not so easy to develop since we wanted to make it a first step for the Voicemeeter porting process.'
The VB-Cable virtual audio device is available for free to test and as simple donationware, while VB-Cable A+B package is distributed as donationware – users select a price (€5-25/US$5-25) to get a personal download link after purchase.