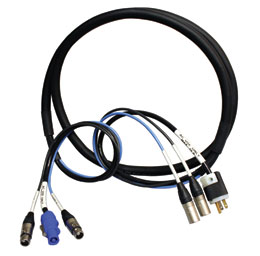 RapcoHorizon is shipping its new AC-Audio Composite Cable, which carries both AC power and two-channels of digital audio within a single outer jacket. It is designed to be used with most new, professional-quality, self-powered speaker PA systems.
The AC cable portion consists of three 14GA conductors with a rugged PVC outer jacket, which is separate from the audio channels. This enables users to split the AC power and digital audio while maintaining a high quality AC power run. The two digital audio channels are designed under AES/EBU standards and accommodate both digital and analogue audio signals.
The cable is available in bulk or pre-terminated by RapcoHorizon and can be equipped with a variety of connector combinations including Neutrik Power-Con AC connectors, Edison male or female plugs, Hubble twit lock connectors or IEC connectors. The digital audio channels are terminated with Neutrik NC3FXX and NC3MXX professional XLR connectors.
'In addition to the individually jacketed AC lines separate from the digital audio, the cable now features IEC connectors, providing the most versatile configuration available for PA systems, and most other applications,' says Darius Seabaugh, VP of Marketing.
More: www.rapcohorizon.com