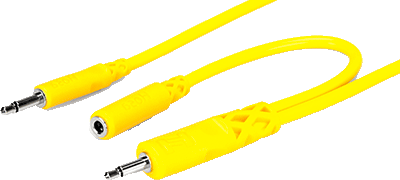 Hosa Technology's new CMM-500Y series of Hopscotch Patch Cables are intended for use with modular synthesisers, and offer a unique pigtail patch point that enables users to split a signal at its output.
Hopscotch Patch Cables each include a short pigtail with a female 3.5 mm TS jack at one end of the cable. This jack makes it possible to take a signal that has already been patched and assign it an additional new path. The pigtail design moves the jack away from the connector (where space is limited) but close enough to identify the output to which it is connected.
Featuring Oxygen-Free Copper (OFC) conductors, flexible spiral shielding, and nickel-plated plugs, Hopscotch Patch Cables are fitted with slim plugs that make use possible in any modular synthesiser rig without interfering with other cables or controls. The cables are colour-coded by length. The CMM-545Y bundle contains five yellow, 1.5-ft (450mm) cables, while for an assortment of lengths, the CMM-500Y-Mix includes one of each of red 6-inch (150mm), orange 1-ft (300mm), yellow 1.5-ft (450mm), green 2-ft (600mm) and blue 3-ft (900mm).
'Hosa's new Hopscotch Patch Cables minimise patching limitations and make it easier to implement new sonic ideas instantly,' says Hosa Technology Product Manager, Jose Gonzalez. 'We're confident the superior construction, slim housing, and unique pigtail patch point will make Hopscotch Patch Cables must-have options in modular synth rigs everywhere.'
Hopscotch Patch Cables are available now; MSRP for each of the two options is US$34.95.
More: www.hosatech.com