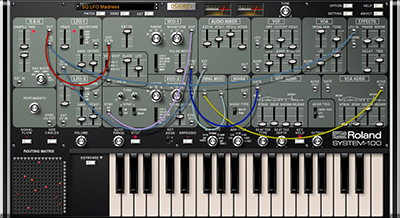 Roland's System-100 Plug-Out software synthesiser – part of the company's AIRA series – is a reproduction of the semi-modular System-100 mono synth, using Analog Circuit Behavior to recreate the sound of the original.
Designed for use with Roland's System-1 and 1m, as well as Mac and PC hosts, the System-100 is a two-oscillator monosynth with modular routing capabilities based on the original Model 101 Synthesiser and Model 102 Expander from 1975 – providing two VCOs and two LFOs, as well as sample–and-hold, ring modulation and a noise Generator, along with modular routing.
The signal path can be altered and parameters modulated by connecting virtual cables between the patch points. A 14x15 Routing Matrix offers super-quick patching with all connections visually reflected on the control panel. As with other Roland Plug-Outs, there are dual ADSR envelopes (VCF and VCA) and advanced pattern generation via the Scatter-equipped Arpeggiator. Six arpeggio types with six step settings combine with variable Scatter type and depth to create a broad selection of patterns. A phaser with modulation inputs joins the reverb and delay.
The System-100 Plug-Out offers seamless integration and unique capabilities for System-1 and System-1m owners, including high-resolution, knob-per-function hardware control, stand-alone portability, and both virtual and physical routing and modulation capabilities (1m only).
When connected to a computer, a System-1/1m functions as a dedicated controller for the System-100. Sounds can be transferred back and forth between the hardware and software, and the System-1/1m can act as a high-quality audio and Midi interface. Users can also Plug-Out directly to the System-1/1m, creating a stand-alone hardware System-100 synthesizer with real physical controls that can go anywhere and doesn't require a computer.