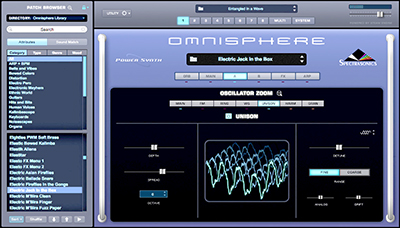 Spectrasonics has released Omnisphere 2.1, an update to its flagship software synth with a streamlined Sharing feature for user sounds and new Library Publishing.
Omnisphere v2.0 brought expanded new synthesis and creative capabilities for sound design, along with significant user interface innovations, and thousands of new sounds. The new update (a free download to Omnisphere version 2 users) includes refined patch and project sharing features for exchanging custom sounds between end-users directly or over social media, a Library Publishing feature allowing third-party sound developers to create sound sets for Omnisphere 2 users, as well as a much improved boot time for the plug-in itself. Both the Sound Sharing and Publishing features can contain User Audio, offering 'new horizons in patch creation and simplified collaboration'.
'It's exciting to see the Omnisphere universe expanding with so much great sound development work in so many areas, from EDM to rock, and film and TV scores to games,' says Spectrasonics founder and Creative Director, Eric Persing. 'Now third-party developers of patch sets for Omnisphere 2 have a simple way to create and offer custom libraries that can include their own sound sources, and are easy to install. There's no need for installers or complicated instructions for moving files around directories deep in the system folders. And because it's easy to share sounds and ideas now, we feel this will be a huge boon for social media user groups discussing tips and patch creation. This is a big opportunity for our users everywhere.'
Sharing sounds is simplified in Omnisphere 2.1, allowing a few Patches or Multi-patches to be saved and transferred. Sharing patches automatically includes any user audio. Sharing multiple types of Patches, Multis and user audio all at once is easier too, with Project sharing.
The Publish Library feature was created for third-party developers of Omnisphere libraries. It allows developers to easily export, or 'publish' a library of Multis and Patches, along with any associated user-created Soundsources, as well as graphic images for the custom library in a single omnisphere file format. End-users can then easily install this package into their systems with a single step.
Beyond the new sharing features in v2.1, the Version 2 upgrade, includes a host of new capabilities including the most requested Omnisphere feature: audio import for user-created sound sources, along with major new oscillator features including more tan 400 new DSP Oscillator waveforms, morphing Wavetables, new granular synthesis options, more than 4,500 unique new sounds (bringing the total to more than 12,000 sounds and patches), 25 new FX, an enhanced user interface and production/browsing features such as Sound Match to locate related sounds in the library, and Sound Lock to create patch variations by locking sound aspects while browsing other patches.
More: www.spectrasonics.net