'Future Coast' modular synth company Qu-Bit Electronix has announced the Nautilus Eurorack module, a stereo delay of eight delay lines that can be connected and synchronised to act as a complex delay network inspired by sub-nautical communications.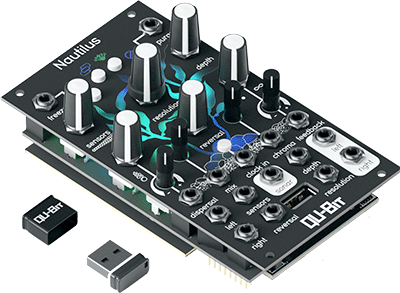 'Nautilus is the delay processor that the Eurorack world has been waiting for,' says, Qu-Bit Electronix co-founder and CEO, Andrew Ikenberry. 'Thanks to recent advances in embedded processors, we were able to create a sophisticated delay algorithm that has never been done before in hardware – Nautilus is capable of creating entire worlds of sounds, and certainly feels like far more than just an effects processor.'
The unit is capable of pitch-shifted shimmer delays and evolving polyrhythmic delays, as well as echoes of the past using a clear, intuitive front panel interface free from shifted functions. A clock signal is typically generated either internally using the tap tempo clock button or externally via the clock gate jack just below. The basic building blocks of the delay are the controls for resolution (clock division or multiplication) and feedback, which determines the amount of repeats from one to infinite.
With its name is derived from Jules Verne's classic SF novel Twenty Thousand Leagues Under the Sea, Nautilus' ambitions are in the ways that sound travels and interacts within the aquatic world. Eight co-dependent delay lines – four per stereo channel – can be run simultaneously (with up to 20s of audio each), as well as tempo-synced control over the spacing between the delays. Sensors and dispersal functions allow a simple delay line to create complex yet coherent cacophonies of sound.
Additional complexity can be introduced using onboard chromatic and depth receptors that apply a internal effect processors into the delay lines. Each effect – including filters, distortion and colour – is independently applied to the delay lines.
Nautilus provides an abundance of stereo feedback behaviours, including ping-pong delay, cascading delays and Adrift – a unique meandering delay. It also has a selection of delay modes, allowing access to faded delays (that remove the Doppler effect found on standard delays when changing the delay frequency), Doppler delays (that reintroduce that effect), a pitch-shifted up shimmer delay and a pitch-shifted down 'de-shimmer' delay. Nautilus also has two onboard attenuverters fixed to its dispersal and feedback inputs.
It is possible to freeze the delay lines, locking them in place with the clock rate or clear them altogether using the purge button.
Users can capture Nautilus' output and use it to self-patch or control other points in a modular system. Te output is algorithmically generated from the delay network, creating an evolving, one-of-a-kind output to render unique patches. Following the Aurora spectral reverb sibling, LEDs indicate Nautilus' numerous settings, while also acting as a vu meter for the left and right channels.
A free open-source app allows users to configure a whole host of settings and functions. Users can choose settings, then the app exports a file that can be saved onto the module's USB flash drive, which, when reinserted into the module, automatically updates it.