British boutique electronic instruments innovator Analogue Solutions has announced Leipzig v3 – an advanced analogue synthesiser reshaped as a desktop version of the rackmount Leipzig-S analogue synth/sequencer – a discontinued design dating back to 2011.
Leipzig v3 takes its (re)design cues from Analogue Solutions' 2019 Impulse Command – a true stereo, semi-modular analogue synthesiser melded with the Leipzig-S used by the likes of Vince Clarke, Gary Numan and Nine Inch Nails' Trent Reznor. Its circuits are based on 1970s-vintage designs, so no quantisation for CPU reading required, including Moog-style filter, two VCOs and analogue step sequencer.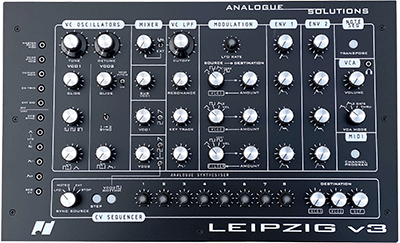 Features new to the Leipzig v3 include increased flexibility through Control Voltage patch points positioned directly on the top panel (as Eurorack patch cable-compatible 3.5mm jack sockets), allwing it to be cross-patched within itself and also to external Eurorack modular synthesisers.
An already-capable eight-step analogue sequencer has been extended to turn off VCO 2 (square wave only) on selected steps by activating the RHY(thm) toggle switch and manually stepping through the CV sequencer using the Step pushbutton, then toggling VCO 2 on or off using the Rhythm pushbutton. Leipzig v3 also has a 'hidden' dynamic (digital) 16-step sequencer that constantly stores every note played in via Midi into volatile memory as a 16-step loop. It is always locked in sync with the analogue sequencer and new notes can be entered into the 16-step loop while the sequencers are running, permitting patterns to be constantly changed on the fly.
Straightforward synchronisation of the sequencer to a DAW is possible by sending it Midi Note 000; as such, it can be clocked at any tempo (and also divided down relative to the DAW's tempo), stopped, started, and muted from the DAW itself – impossible with Midi Sync.
The mixer and VC LPF sections can both be overdriven, lending Leipzig v3 a hard sound alongside its softer options. Percussive patterns can be quickly created and synchronised to – or recorded directly into – a DAW.
Leipzig v3 is available to purchase priced at £1,018.80 (including VAT).