Korg has released the MS-20 FS Monophonic Synthesizer – a 1:1 scale reissue of the MS-20, reborn in four limited-edition colours.
The original MS-20, unveiled in 1978, played a key role Korg's history as a synthesiser brand. Even after sales of the original came to an end, Korg has carried on the MS-20 tradition in a mini-sized reissue, a software synthesiser plug-in, and even a DIY kit version. These were driven by Korg's pride in its synth heritage, its understanding of the MS-20's historical significance, the wish to the sustain its own analogue circuit technology, and a desire to pass on the MS-20's sound to future music making.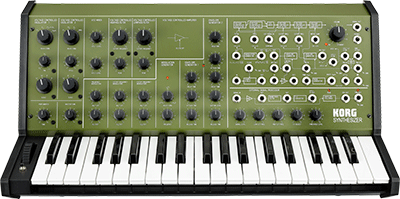 Recreating the original MS-20 and adding new features, the MS-20 FS (full-size) is a 37-key analogue monosynth with patch bay, external signal processor, Midi In and USB.
With the MS-20 FS, Korg has resumed production of a completely assembled full-size MS-20, which had in 2014 been produced only in very small numbers as a kit.
In addition to faithfully recreating the sound, feel, and analogue circuitry of the original MS-20, this full-size reissue comprises of limited numbers of the four powder-coated colour variations – green, white, blue and black.
Accoring to the company: 'This MS-20 FS is the genuine MS-20 made by Korg, faithful to the original in every way. Today, over 40 years after first appearing in 1978, musicians hungry for this absolutely timeless sound can hear the genuine analogue power of the MS-20.'
Key features:
Full-sized 37-note (3-octave) keyboard made by Korg.
Two filter types: early model and late model.
Faithfully reproduced analogue circuitry.
2VCO/2VCA/2VCF/2EG/1LFO structure.
External Signal Processor.
Modular patching system.
Midi In and USB port.
Control Wheel (centre click).
Momentary switch.
Power Supply: DC12V.
Included AC adapter/quarter-inch patch cables.
Owner's manual and settings chart.
All four Korg MS-20 FS models are now available with an MAP of US$1399.99.
More: www.korg.com