EarthMoments has released 5Elements, a selection of eight original handmade instruments created by Aurelio C Hammer and sampled for Kontakt and Kontakt Player.
The 5Elements concept is inspired by the ancient Indian concept that all creation, including human existence, is made up of five essential elements: Earth, Water, Fire, Wind, and Space. In 5Elements, EarthMoments has captured the character of several instruments created by Hammer at the Svaram workshop in Auroville, India. 5Elements adds features that enhance these distinctive instruments for sound design and scoring. 'What we are looking for in our instruments is capturing the atmosphere, the inherent harmonic structure of nature, because the aesthetics are right in nature,' Hammer says.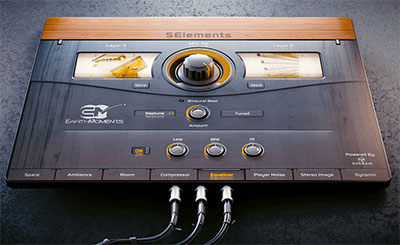 The 5Elements suite includes Ananda, a wooden, stringed instrument with four bridged strings that resemble the Indian tamboura and eight strings tuned to a pentatonic scale raga on the front, plus 36 strings on the bottom, tuned to E, for rich, natural harmonics. Additionally, Golden Plates (plate gongs) are rectangular plate bells made from brass with a majestic sound similar to brass bells; Healing Bed is an elaborately constructed instrument the size of a massage table that has 50 strings and a custom-designed resonator; Litophone is a mallet instrument made from granite stones and played with padded sticks; Octave Tubesis an array of nine resonant metal tubes that can be played, swung and rotated at the same time to create a captivating atmospheric sound; Silver Plate is a large and heavy silver plate that produces solid and heavy overtones with a very long sustain; Singing Stoneis a 200kg stone instrument played in a fashion similar to rubbing the rim of a crystal wine glass; and Tubular Bells is a set of large tubular bells using mathematically-based tunings based on a C-256 pentatonic scale over two octaves.
Each instrument includes several playing styles called 'sub-instruments', such as strummed, plucked, struck with mallets or sticks, and pre-recorded phrases. You can layer and mix two layers of instruments or sub-instruments and can apply compression, EQ, and reverb.
5Elements also allows a drone layer of binaural beats to be added. A binaural beat is the frequency perceived by the brain when two different frequencies are listened to, one in each ear. The perceived frequency is the difference between the two frequencies. Research shows that certain frequencies are associated with specific brain activity. The use of binaural beats in 5Elements is influenced by the traditional drone sounds in classical Indian music. You also can add an ambience layer of field recordings and sounds of the beach, forest, village, workshop, and rain from various places in South India.
'Hopefully, this collaboration with EarthMoments can bring the sounds of Svaram to people who wouldn't have access to it so that the sounds inspire people and maybe open their ears to the vibrations of nature,' Hammer says.
EarthMoments 5Elements is available now for a street price of £99.