e-instruments (the company behind the Kontakt based sample instruments) is expanding its Stradivari Violin Kontakt instrument with the addition of Cremona Quartet, featuring four solo instruments – Violin 1, Violin 2, Viola, Cello. The instruments were created by meticulously recording a Stradivari Violin, Guarneri Violin, Amati Viola and Stradivari Cello.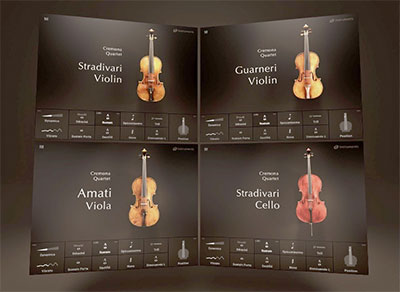 The collaboration been e-instruments and the Museo del Violino (the guardian of the Stradivari collection) ensures a painstaking series of recordings made in the heart of Cremona, the birthplace of Stradivari and the environment designed to hear them at their best – the Auditorium Giovanno Arvedi.
The project brought new technical challenges to the e-instruments team who wanted to ensure that this recreation would be free of compromise both in terms of sound and playability. As a result, the collection features new technologies such as Multi-channel, Stereo phase alignment, where every note of each instrument has been sampled at different dynamics and phase-aligned in stereo across multiple microphones. This ensures that all dynamic transitions are free from any phasing artefacts and dynamic changes over long legato transitions, from the softest pianissimo to the most forceful fortissimo, are indistinguishable from the real thing.
The e-instruments innovation of performance captured vibrato takes the recording of a professional player's vibrato technique, then reapplies the behaviour of the vibrato parameters to the sample, allowing automation or control in real-time, resulting in full and realistic control for an expressive and natural sound.
Key features:
Smart fingerboard positioning.
Multichannel, stereo phase-aligned dynamic layers.
Mix between close, mid and far mic positions.
Additional room noise control.
Performance-captured vibrato emulates human vibrato technique.
20 Professionally played articulations.
Up to three legato transitions per articulation.
Native Instruments NKS compatible.
More: https://e-instruments.com/instruments/strings/cremona-quartet