Joining its Symphonic and Chamber ranges of sample-based virtual instrument libraries, Spitfire Audio has announced Spitfire Symphonic Motions, promising to make 'moving string' performances available to composers requiring expressive and intricate rhythmic patterns.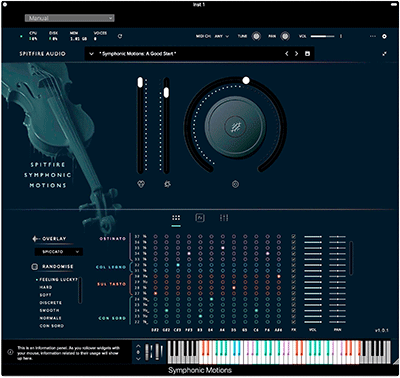 The samples represent London's finest string players performing together to create a range of rebowing movements and rhythms recorded in Lyndhurst Hall at London's AIR Studios.
Central to Spitfire Symphonic Motions' is Spitfire Audio's bespoke Grid interface – inspired by the British-built EMS VCS3, which made musical history in 1969 by being the first commercially available portable synthesiser. With this arrangement expressive, intricate,and realistic rhythmic strings can be created from a selection of ostinato (motif or phrase that persistently repeats in the same musical voice, frequently in the same pitch), col legno (striking strings with the wood of the bow), sul tasto (bowing on the fingerboard), and con sord (with mute) playing techniques, then combine these with short overlay techniques – such as spiccato (in which the bow appears to bounce lightly upon the string) – for accents and blending to create a more nuanced, dynamic sound. Four bowing rhythms are offered – 1⧸6 (6ths), 1⧸8 (8ths), 1⧸12 (12ths), and 1⧸16 (16ths) – with discrete/staccato and smooth/legato phrasing options available and locked to tempo in the host DAW. A Randomise option generates random combinations.
The samples were made by Jake Jackson, Chief Engineer and Associate Producer for Spitfire Audio, and an award-winning recording and mix engineer/producer with wide-ranging film, television and computer game soundtracks, and album credits to his name. As a finished product, Spitfire Symphonic Motions makes available a choice of six signals, including close tree and ambient mics, as well as three carefully curated mixes.
Spitfire Symphonic Motions is available in AAX, AU, VST2 and VST3 formats, an NKS-ready plug-in that loads directly into a DAW at a promotional price of £149 (inc. VAT)/US$199/€199 (inc. VAT) rising to an MSRP of £199 (inc. VAT)/US$249/€249 (inc. VAT)
More: www.spitfireaudio.com/shop/a-z/spitfire-symphonic-motions