Virtual instrument and effect plug-in company XILS-lab has announced XILS 201, a recreation of Sennheiser's seventies-vintage VSM 201 Vocoder.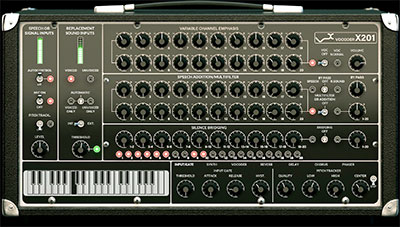 Following its XILS 505 emulation of Roland's paraphonic string machine, the XILS 201 ventures into territory occupied by Kraftwerk (Man Machine album in 1978, including its classic 'The Robots') and jazz keyboardist Herbie Hancock, before being invaded by producer Zeus B Held and more latterly French electronic music duo Daft Punk.
Invented in 1938 by Bell Labs' Homer Dudley as a means of synthesising human speech and developed into the channel vocoder for telecoms transmission, the technology was picked up by music technologists. In its incarnation, the Sennheiser VSM 201 Vocoder featured 20 frequency bands spanning a 100Hz to 8kHz, and was expensive on launch – and remained ultra-rare and ultra-pricey, as evidenced when Kraftwerk's modified showed up on an UK online auction site with a starting price of £8,214 (plus 21% VAT for European Community-residing bidders) almost 40 years later.
In its user manual, XILS-lab says 'XILS 201 is a virtual effect based on the architecture of one of the coolest vintage vocoders out there. One of the best vocoders ever created, XILS 201 can take you back in time to when sound was so important for the great artists who started the electronic music revolution'.
Features worth highlighting include its two (Variable Channel Emphasis and Speech Addition/Multifilter) filter banks, each offering 20 frequency bands and capable of processing the incoming signal or carrier signal; and an inbuilt (modelled) analogue synth can be used as a carrier, immediately imparting XILS 201 with its characteristic (and readily recognisable) sound – as can any other incoming signal, such as an external synthesizer or another voice.
The Silence Bridging section hosts a multi-band frequency-dependent envelope follower engine that shapes the signal gain according to its harmonic content for processing percussive or rhythmic sonic material or adding a contour to the sound. Making it more versatile and powerful are vintage analogue-modelled effects – chorus, delay and phaser, and an early 'digital' reverb also added with custom-configurable routing and order options.
The XILS 201 is available to purchase as a USB eLicenser or iLok (1, 2, and 3 dongle hardware or software) protected plug-in at an introductory promo price of €89 until 31 July 2020, rising to an of €149.