Intended to help skilled young DJs move from the bedroom to the barroom or livestream, Hercules has launched the DJControl Inpulse 500, a performance-focused controller that is built from the ground up to help DJs build confidence as they share mixes with an audience for the first time.
Hercules has been making DJ controllers since 2003, with the Hercules DJ Console, the industry's first two-deck digital portable mixing deck with built-in audio interface. Over the secceding 17 years, the company has released multiple controllers that appealed to beginner and aspiring DJs, such as the Hercules DJ Console Rmx console in 2008. In 2018, it released the DJControl Inpulse 200 and DJControl Inpulse 300, both of which feature built-in tools that actively encourage manual mixing rather than reliance on a Sync button.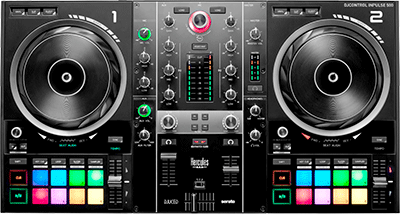 The DJControl Inpulse 500 comes with both Serato DJ Lite and Djuced, Hercules' in-house mixing software.
'We have been working alongside Hercules since 2015, most recently on the DJControl Starlight, which in 2019 became a super popular, portable controller,' says Serato Chief Strategy Officer, Nick Maclaren. 'We're thrilled to partner with the team again on the DJControl Inpulse 500, a controller that lets young DJs take the first steps towards public performances. We have also adapted our software to integrate Hercules' unique, award-winning learn-to-DJ hardware features so that users who choose to mix on Serato can go into their first performance with the confidence they need.'
DJControl Inpulse 500 features Learn-to-DJ guides and Djuced's AI-driven Intelligent Music Assistant, along with features that help DJs confidently make the leap to performing for an audience and getting paid for their efforts. Among these are
ready-to-mix audio options – powered by USB, the backside of the controller is open to external sources such as a smartphone or a media player via dual RCA auxiliary input or a 3.5mm stereo mini-jack as a back-up or as an extra source of music. Plus, the hardware mixer for audio inputs has an aux filter.
Key features:
· Ready-to-mix audio options.
· Controlled MC features.
· Filter FX.
· Solid retractable feet.
· Build quality.·
· Streaming support.
The team at Hercules has been nurturing beginner DJs for almost 20 years, and as their community's skills grow, their controllers are growing up too. When DJs feel they're ready to move out of their bedroom and into bars, cafes and clothing stores, the DJControl Inpulse 500 offers a portable, professional look and feel, performance-ready controller that helps first-timers look cool and perform with confidence.
More: http://hercules.com