The Noatronic Onboard Expression system aims to allow guitarists to move away from their pedalboards while still being able to control their effects. 'Being a guitar player, the idea for the Onboard Expression system emerged from my own needs on the stage,' explains Noatronic founder and engineer, Michael Engel. 'I felt limited by being tied to my pedals while wanting to just move around freely.'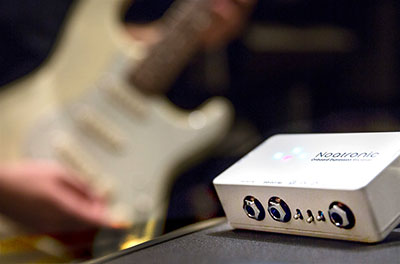 The Noatronic Onboard Expression system consists of three elements that, in combination, give guitarists tactile control of pedals from their guitar. The Controller push-push potentiometer replaces one of the Tone knobs, while the included stereo (TRS) jack connector is mounted. Finally, the Receiver is connected via a stereo (TRS) jack cable. The Receiver is an external device that reads the Controller position and switch status via the ring terminal of the stereo (TRS) jack by using Noatronic technology.
'Once installed, you can use the push-push functionality to switch effects on and off, and you can turn the knob to alter dedicated effect parameters,' Engel says. 'If used with a Midi-enabled device, you can also program it to change between six different presets – for example on Kemper amps, Fractal Audio Axe FX units, Line 6 Helix systems or pedals with Midi functionality such as Strymon and more.'
The Receiver is true bypass and communicates with pedals, amps and amp modelers via the following outputs: Midi (Expression CC, pypass CC, Preset PC and Snapshot/Scene CC), Expression (simulates an expression pedal when turning the Controller) and Switch (simulates a footswitch when pressing the Controller).
Noatronic Onboard Expression is designed and made in Denmark and is available worldwide via the company's website and through and selected dealers for US$249/€249.
More: www.noatronic.com