TA Programming has released its inaugural Studio Midi and CV Interface full synthesizer control system, capable of controlling multiple synthesisers simultaneously via voltage control outputs and Midi/USB with extremely low latency. 'We designed this interface to be not just a solution to problems that we'd encountered when controlling synthesisers in the past, but to unlock a whole new world of creativity with synthesisers from one interface,' says TA Programming CEO/CTO, Tim Aviss.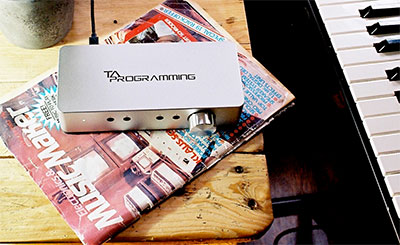 Connections comprise Midi In and Midi Out alongside USB I/O for Midi and serial bus connectivity, together with four universal CV Control outputs. The four universal CV Control outputs can perform any function, whether for producing Pitch, Gate or Aux signals. Alongside them, an unlimited number of universal CV Control outputs can be created by daisy-chaining multiple interfaces via the Midi ports. Also, any source – such as Pitch, Note On/Off, Velocity, Aftertouch, any Midi CC number, signals from a DAW – can be selected via USB or Midi.
The voltage of the configured output is user definable between -9V and +10V, to satisfy the requirements of almost all synthesisers, past and present. This offers complete control over note range scale, from microtonality through to the limits of the connected synthesiser. TA Programming's proprietary tuning technology is capable of handling the most stubborn scaling issues, effectively eliminating scaling and tuning issues on any analogue synthesiser, including non-linearities. This is built upon a six-point multi-mapping system that uses advanced interpolation and modelling algorithms all within a floating-point mathematical model before conversion to control voltages are applied in real time. This proprietary tuning technology works out the control voltages said synthesiser needs, regardless of tempco (temperature compensating) resistor variation, in order to produce pitch-perfect notes in real time.
Additionally, the Studio Midi and CV Interface is MPE (Midi Polyphonic Expression) compatible, capable of sending out full MPE via Midi DIN or mapping single channel/polyphonic MPE out of the universal CV Control outputs. As all five control dimensions are natively supported, users can be sure that their synthesisers will be as musically expressive as allowed by the MPE method.
The interface itself is powered by USB, and is able to tolerate variances in input voltage such that the resulting supply is always as clean as possible, providing the highest control voltage accuracy, as well as preserving tuning and configuration regardless of the USB host.
The unit's control software allows complete configuration. In addition, users can host USB Midi controllers in the software itself, bypassing the DAW, if desired. The software also provides Midi processing features, including LFOs, BPM-locked arpeggiators and keyboard splitting over Midi. TA Programming plans to regularly update the interface's firmware and control software so that users can always access the latest features following initial purchase.
The interface always automatically stores its current configuration with no need to 'save'. Upon connection to a computer, the control software will automatically pull the current configuration from the interface to allow further editing. An unlimited number of presets and profiles for all the synthesisers in a set-up can be saved to the computer and reloaded into the interface at any time.