Strymon has announced Iridium pedal, bringing its powerful modelling to bear on the world of classic guitar amps and speaker cabs miked in great-sounding rooms.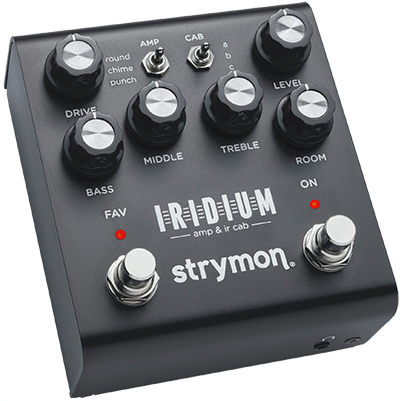 Iridium models three iconic amplifiers – Fender's Deluxe Reverb, Vox AC30TB and Marshall Plexi –with loadable impulse response speaker cabinets that compliment the tonality of the amp and room ambience for at pedalboard-based performance directly into a recording interface or live sound system.
Strymon's aim was to create a pedal that delivers the sound and feel of classic electric guitar tones. Its Matrix Modeling process captures all the subtleties and nuance of three iconic amps with distinct characters, following every aspect of their circuitry to deliver the response, feel, and inspiring experience of playing through the original amps at their best. Taking that process a step further, each amp – offered as Round, Chime and Punch – has been 'goosed' to provide an extended range of tonal options beyond what was available from the original.
Based on a Fender Deluxe Reverb – one of the most recorded amps in history – the Round amp is clean, bright, and mid-scooped, with plenty of headroom. At higher Drive settings it delivers an overdriven sound unique to its architecture. Strymon chose the Deluxe's Normal channel for 'a round tone that plays well with pedals'. With the Middle (midrange) control at noon, it delivers the original fixed-resistor value and standard tonal characteristics of the Deluxe; turn it down for a more scooped sound, or turn it up for tweed-era tones.
Chime is based on the Brilliant channel of a Vox AC30TB giving is jangly, bright, and chime-y tones. This time, the Middle knob acts as a tone cut control, providing high-end roll-off just before the power tubes, as per the original AC30TB design. In addition to the full available gain of the original, there is a frequency-shaped front-end boost towards the top end of the Driveknob's range to tighten the low end while driving the amp further into saturation.
The Punch amp is based on a Marshall Plexi (Super Lead 1959) with higher gain than the other two models, and has a powerful midrange response. It also features a smooth overdrive. At higher Drive settings it will deliver the high gain distortion and growl that defines this amp. Setting the Drivecontrol at around two o'clock results in the maximum gain the original Plexi allowed. Beyond, Strymon's model has some additional gain on tap, allowing access to custom hotrodded Plexi high gain tones. True to the tone stacks of the amps, Iridium's tone controls have the same interdependences as those found in the original circuit designs. Its speaker cabinets claim a level of realism and responsiveness unprecedented in outboard effects.
Iridium's hybrid room reverb combines a 256ms stereo impulse response with Strymon's reverb tank algorithm for extended decay. This combination places the chosen amp/cab combination in a natural-sounding room (small, medium or large).
Iridium outputs stereo 96kHz, 24-bit audio for the 500ms of its speaker cabinet impulse responses. IRs of this resolution have previously been exclusive to studio software.