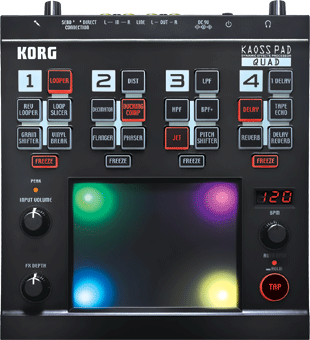 Korg's new Kaoss Pad Quad employs new effects, functions and features that allow the creation of custom combinations of effects with simultaneous control of up to four effects in real-time using a single fingertip on its touchpad. Any audio source can be processed: an MP3 player, mixing desk output, an instrument or vocals.
Since Korg's Kaoss Pad touchpad-based effect controller first appeared, the X-Y touchpad has appeared in many of the company's products. As users tap, slide or move their finger across the touchpad interface, effect parameters change, producing dramatic real-time transformation of the sound.
Designed to be both usable and highly playable as an effect processor, Kaoss Pad Quad allows simultaneous control up to four effects. Each of four effect modules – Looper, Modulation, Filter and Delay/Reverb – contains five options (plus a module kill), for a total of 1,295 combinations. Effects are chosen directly from the front panel for easy access during live performance. By rhythmically adding successive effects, or switching effects on and off as a song progresses, the Kaoss Pad Quad can add variation and development to the structure of any song. Even the simplest beat can be creatively affected to produce something entirely new.
The Freeze offers even more versatile control of each of the four effect modules. It memorizes the position at which the pad was last touched, effectively 'freezing' the state that effect was in, even after release. By touching the touchpad again while Freeze is enabled, only the 'unfrozen' effects will be controlled.
New effects include:
Multi-Mode Looper for looping a part of a song; the number of beats is controlled by the location touched. Three types of looping are provided: the standard Looper, the Rev Looper (Reverse Looper which plays the looped phrase backward) and the Loop Slicer, which divides the phrase and lets the loop-play only a specific portion. Additionally, users can switch between the different looper types by sliding their finger up and down the touchpad as the loop plays, producing radical new beats on a whim.
Vinyl Break turntable effects, which allow users to create all the standard turntable rotation effects, including scratching, slow-down/speed up, stop and more.
Ducking Comp, creating effects of a 'ducking compressor,' which has become a staple in music production.
Additionally, the proprietary Auto BPM engine automatically detects the tempo/BPM of the song that's playing or the audio source. Users can also use the BPM knob to make fine adjustments. Alternatively, the BPM can be set manually using the Tap Tempo function.
More: www.korg.com