Gamechanger Audio has announced Motor Synth, a digitally-controlled analogue electro-mechanical synthesiser that uses a system of electromotors as its main sound source.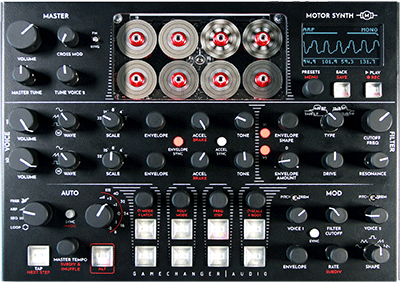 Motor Synth represents an alternative method of analogue audio signal synthesis, possibly most reminiscent of the Hannond organ's tonewheel sound generation. It produces sounds by accelerating and decelerating eight electromotors to precise speeds that correspond to specific musical notes. It is a four-note true polyphonic synth with two voices per key played.
The system uses magnetic pickups placed on each of its eight electromotors, whose spinning coils result in a very industrial-sounding analogue tone. Reflective optical disks attached to the shafts of each electromotor, each carrying a graphical representation of some standard audio waveshapes. As the electromotors spin, the disks are set into circular motion, and each waveshape is read by a dedicated set of ultraviolet sensors, then converted into an audio signal. In this way, the waveshapes on the reflective optical disks become precise musical notes, corresponding to the speed of the electromotors.
Motor Synth also features familiar analogue audio processing circuits – filters and alongside arpeggiation, cross-modulation sequencing, and multiple polyphonic mode facilities, as well as a looping system that allows layering of rhythm and melodies.
A desktop design unlike its initial proof-of-concept prototype predecessor, it can be played via eight built-in control keys and four floating tuning pots. Users can alternatively connect any standard Midi interface like a keyboard, while Motor Synth is also capable of tracking a monophonic audio signal, such as guitar or bass, via a quarter-inch mono input. Motor Synth can also be configured to act as a harmoniser for electric guitars or other melodic instruments, recognising the pitch of a musical tone and instantly generating a complimentary tone by operating an electromotor at a matching frequency. Users can create intervals and chords based on the frequency of the incoming signal with no need (necessarily) for a Midi controller or inputting preprogrammed musical information.
A transparent glass cover protects the core sound system of electromotors, allowing visual feedback from the instrument itself. The visual experience is enhanced by the also-visible set of reflective optical disks attached to the electromotors' shafts being coupled to a set of eight mini strobe lights, so those spinning disks themselves turn into a light show.
As an instrument that uses electromotors as its main sound source, Motor Synth inherently possesses many unique sound traits. With these unusual tonal and timbral qualities, unlimited microtonal pitch adjustment and modulation abilities, and note attack and decay properties influenced by the acceleration and deceleration curves of electromotors, Motor Synth is aimed at a wide range of musical styles.
More: www.gamechangeraudio.com